The day has finally come after much speculation… Microsoft has finally released their official Office application for the iPhone that will allow Office 365 subscribers to access and edit Word, Excel and Powerpoint documents. In order to edit these documents they will need to be stored in SkyDrive, SkyDrive Pro or SharePoint.
Microsoft states "Documents look like the originals, thanks to support for charts, animations, SmartArt graphics and shapes. When you make quick edits or add comments to a document, the formatting and content remain intact."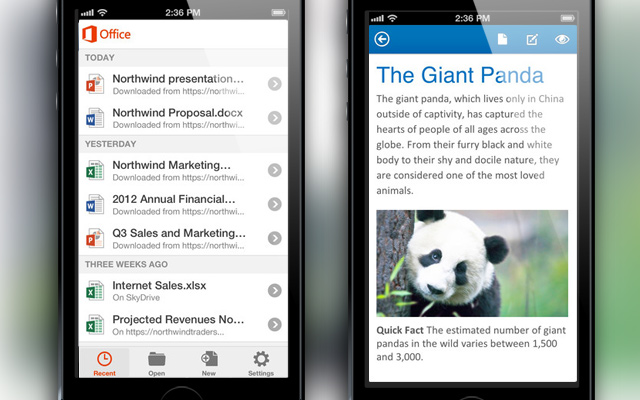 The applications looks great and from initial reviews works very well. It is sure to please all of those that have been waiting for a mobile solution to editing Microsoft documents on the go from their mobile device.
Here is some of the apps main features from the official App Store page:
Edit – You can make quick edits to Word, Excel and PowerPoint documents.
Documents Remain Intact – Formatting and content remain intact when you edit Word, Excel, or PowerPoint documents on your phone.
Edit While Offline – Your device doesn't have to be continuously connected to the network to work on an Office document that is stored online. You can view and edit recently used documents even while you're offline. Your changes will be saved online when your device reconnects to the network or to Wi-Fi.
Create – You can create new Word and Excel documents on your phone.
Comments – You can review comments that have been made in Word and Excel documents on your phone and add your own comments.
Share – When you're done with your edits or comments, simply send the document in email or save it to SkyDrive or SharePoint.
You can download Office Mobile for Office 365 Subscribers from the App Store by clicking here. The app itself is free, but as mentioned previously you will need to have an Office 365 subscription to use it. Unfortunately the app hasn't yet been optimized for the iPad, but we are assuming Microsoft isn't going to miss out on targeting this large userbase and will release an iPad optimized app in the near future.