In celebration of Rockstar Games' 10th year anniversary of Grand Theft Auto: Vice City, the company decided to bring it to iOS and Android. We have been giving regular updates on the game since its release, most recently with a teaser trailer, and are now excited to let you know it is available to download.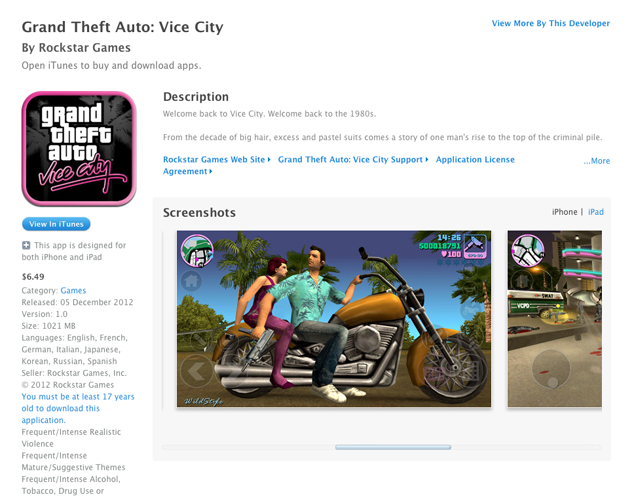 Like Twitterrific 5 that we reported on earlier however,  the game has only been released in New Zealand. The game's official released date is set for December 6th, so those residing in North America will likely need to wait until midnight tonight before it is available to download.
Welcome back to Vice City. Welcome back to the 1980s.

From the decade of big hair, excess and pastel suits comes a story of one man's rise to the top of the criminal pile. Vice City, a huge urban sprawl ranging from the beach to the swamps and the glitz to the ghetto, was one of the most varied, complete and alive digital cities ever created. Combining open-world gameplay with a character driven narrative, you arrive in a town brimming with delights and degradation and given the opportunity to take it over as you choose.
According to Rockstar Games that game will be a direct port of the console/PC version, but with various optimizations for mobile gameplay. This includes customizable controls, better firing/targeting options and of course graphics optimized for Apple's Retina Display devices.
You can take a look at all the features of Grand Theft Auto: Vice City 10th anniversary edition below.
Beautifully updated graphics, character models and lighting effects
New, precisely tailored firing and targeting options
Custom controls with a fully customizable layout
iCloud save game support
Massive campaign with countless hours of gameplay
Support for Retina display devices
Custom iTunes Playlist
The game is a universal app, which means you won't need to purchase a 'HD' version to play it on the iPad. You can download GTA: Vice City from the New Zealand App Store now and once it is available to download in North America, we will update the links.
Download GTA: Vice City universal app – $6.49 (NZD) [New Zealand iTunes Store Link]
Download GTA: Vice City universal app [USA iTunes Store Link]
Download GTA: Vice City universal app [Canada iTunes Store Link]