Gameloft has announced via Twitter that Six-Guns is now available to download for iPhone, iPod Touch and iPad on the iTunes AppStore for FREE.
For the first time ever on iPhone and iPad, you can explore a truly enormous and open frontier in a Wild West full of mystery, bandits and more…unnatural enemies.
Play it for free: Make your enemies pay!

Buck Crosshaw never shot a man who didn't deserve it, but now he's an outlaw who had to fake his own death and escape to Arizona. But in escaping one evil, Buck is about to face another, for an ancient and wicked force stirs in the hills of this mysterious region.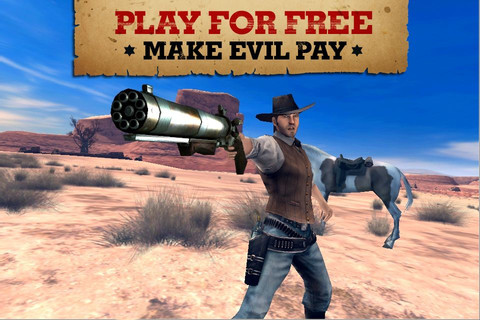 Six-Guns features:
Freely explore an open world set in Arizona and Oregon full of events, mystery and challenges for you to discover as you become completely immersed in the story and the action. But don't be fooled by this land's beauty – outlaws, vampires & many other unnatural foes lurk in every shadow.
Take on 40 missions with a great variety of tasks for you to overcome. You'll race horses, take out robbers, fend off waves of enemies and more along the way!
In this kill-or-be-killed land, you'll need to unlock all 8 different horses, 19 weapons and a wide selection of clothes, ammo and other items to help you on your journey.
It costs you nothing to download and play the game to the end!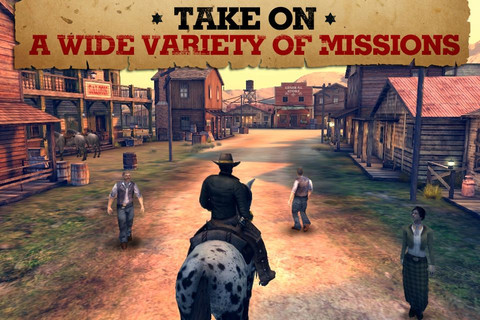 Requirements: Six-Guns is compatible with iPhone 4S, iPhone 4, iPhone 3GS, iPod Touch 3G, iPod touch 4G and iPad. Requires iOS 3.1.3 or later.
Download Six-Guns for iPhone/iPod Touch (iTunes link)
Download Six-Guns for iPad (iTunes link)
What do you think of Six-Guns? Let us know in the comments below.