My default selection strategy for smartphone carriers is to sign with whoever can offer me the most GBs of data for the least amount of dollars. Sure, it makes sense in terms of bulk value, but that strategy does not say anything about reliable data speed or coverage. AppAdvice found an app called CarrierCompare that compares the quality of signals of the different wireless carriers near you.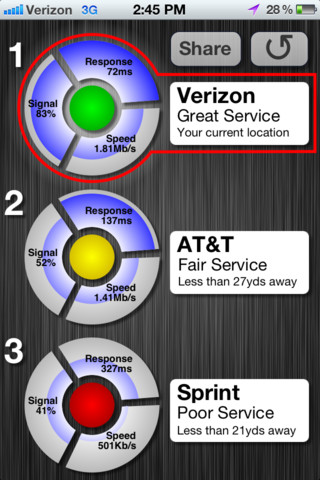 The screen shots in the App Store and on the other review sites show the same picture with Verizon, AT&T and Sprint. Since I don't live in an area that has the pleasure of dealing with those providers, I wondered if the app would detect Canadian service providers. It detected Bell, Rogers, and Telus without issue.
The app isn't as polished looking as the Speedtest.net Mobile Speed Test app. The background looks like bad carbon fiber and the color-coded graphs for signal strength, ping, and speed can only described as freakish cousins of the Google Chrome logo.
There are options to share CarrierCompare's results by email or to Twitter, and I'm not entirely sure why you'd want to. The app does not explain where it gets its numbers from, but the results from the other carriers do not fluctuate. The app does produce a warning dialog when you test the service on WiFi. If you disregard the warning, it will list WiFi as your service provider. Apparently WiFi provides me with great service!
Download CarrierCompare – Find the best service for you FREE [iTunes link]
If you want to compare the quality of the networks around you, give CarrierCompare a shot. Feel free to share how your carrier does in the comments section below.