Apple Releases Cards App For iPhone, iPod Touch and iPad, Download Now
Finally, Apple has released another great app for iOS 5 as promised in the "Let's Talk iPhone" event. What does this application do? This app allows you to create, design and send greeting cards just like Hallmark right from your Apple device (iPhone, iPod Touch or iPad) running iOS 5. This app works like a charm, and there are 21 built-in designs (letterpress and flat) which can be edited or modified according to your needs. You can even add text or images in greeting cards and send to your friends or family.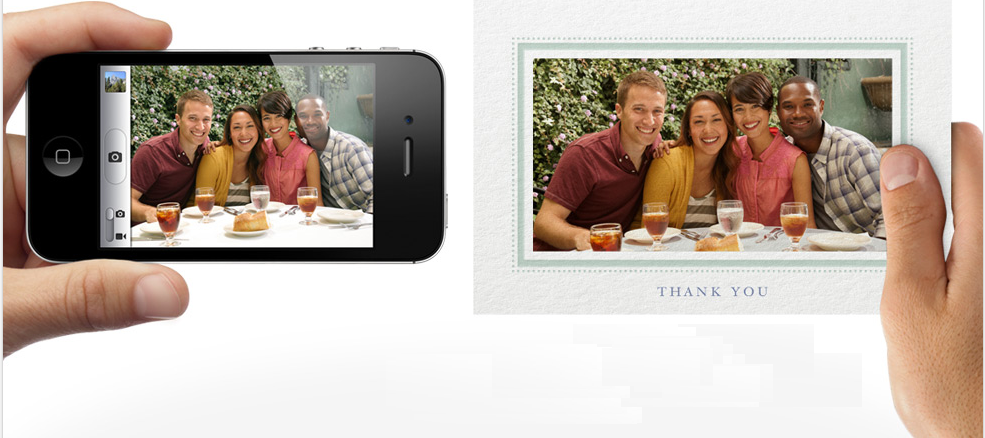 According to last week's "Let's Talk iPhone":
We'll print it out, put the address on it, and mail it. If you mail in the US, we can track it with the US Postal Service barcode, and we'll send you a push notification when it arrives.
After the successful delivery of the card by receiver, you will receive a push notification. However, if you are living in the US you will be blessed with some extra feature and concession like; if you send a card within US it will cost you only $2.99, but for shipping outside the US it will cost you $4.99. And if the card is delivered within the US, it will get a custom-designed stamp by Apple and will use United States Postal Service Intelligent Mail barcode to send you a notification right after receiving the card.
As described on iTunes:
The new Cards app from Apple lets you create and mail beautifully crafted cards personalized with your own text and photos — right from your iPhone or iPod touch. Take a quick snapshot and with a few taps and swipes, an elegant thank you note or "wish-you-were-here" card is on its way to any address in the world. Choose from 21 designs and customize your card with a personal message and photo. Then select an address from your Contacts and place your order in seconds. All your cards are saved automatically, so it's easy to send an invitation or birth announcement to more than one person.

Custom letterpress cards

• Cards combine a centuries-old letterpress technique with your digital text and photos
• Each card is crafted from 100 percent cotton paper and imprinted with an elegant debossed design
• Choose from 21 designs for six occasions: Thank You, Holiday, New Baby, Birthday, Love, and Travel
• Customize the placeholder text for any occasion, such as an anniversary or graduation
• Add a photo to your card or send one with just text

Location integration

• If you select one of the Travel designs, your card automatically displays the name of your current location
• Choose a photo with GPS data, and the card shows the name of the place where the photo was taken

Prepaid postage included

• U.S. customers can send a card within the U.S. for $2.99 including postage
• Send a card anywhere else in the world for $4.99 including postage
• Select an address from your Contacts and easily personalize it — from Mr. Johnny Appleseed to The Appleseed Family, for example
• To place your order, simply enter your Apple ID password
• In the U.S., your card will include our own Apple-designed postage

Delivery notification

• Cards mailed to U.S. addresses make use of the United States Postal Service Intelligent Mail® barcode
• On the day your card is to be delivered, you'll receive a notification on your iPhone or iPod touch

Card history

• All your cards are automatically saved and can be viewed in a history list
• You can resend any card to another recipient — perfect for when you have a lot of friends to thank or you want to spread the word about the newest member of your family

Total order price includes postage. For orders with a U.S. billing address, sales tax will be added to the order price. For orders with a non-U.S. billing address, the order price will include applicable VAT."
Download Cards for iPhone, iPod Touch or iPad for free (iTunes link)
Make sure you stay subscribed through our social media feeds, so that you never miss a beat, by liking us on Facebook, following us on Twitter and joining our circle on Google+.
Hey, you! Join the iJailbreak Insider for weekly newsletters, Jailbreak alerts, contests and more. (No spam, we promise)