I always thought of greeting cards as the kind of gift you send to people you don't really know. Hallmark has made the greeting card a social norm for holidays, but in terms of meaning it remains something impersonal you send to your boss along with a basket of fruit at Christmas. At least that's the way I feel about store bought greeting cards.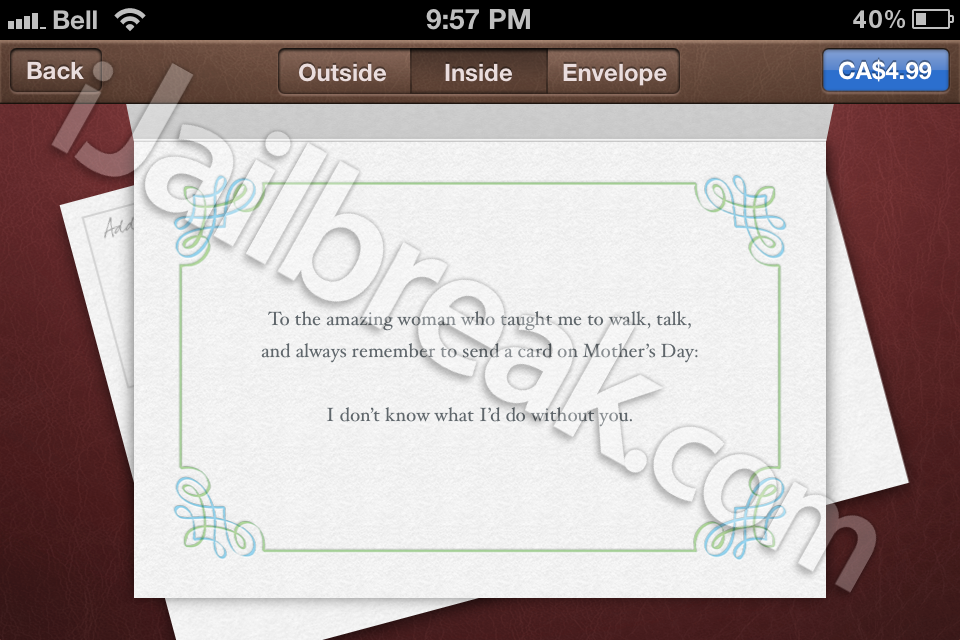 DIY greeting cards tend to have a bit more heart invested in them. They take time, familiarity with the recipient, and some degree of design sensibility (although anyone worth making something for won't be too hard on you if you're not van Gogh). Toss all of that: we have apps. Apple updated their Cards app with Mother's Day templates, so now you can have slick new cards sent to the motherly figure in your life (for a modest fee of $2.99 within the US, $4.99 abroad).
I'm not sure if the templates are more personal or less personal than off-the-shelf cards. You can have the cards printed with a message of your choice and delivered, but you can also write in a standard greeting card with a pen and deliver the card in person. The cards app allows you to include images of your mother, but so does Keynote. But then again, it's a novelty—and to someone who doesn't have an iDevice of their own, getting a personalized 'professional' greeting card could be magical. I'm just not sure if this brand of magic is Mother's Day appropriate.
Apple's Cards isn't a bad app. The interface is polished, it's pleasant enough to use and I'm willing to bet the cards are nice. But it is what it is: a template program. I'm sure there are occasions where that's appropriate, but I personally wouldn't use it for Mother's Day.
The 1.1 update also includes new templates for "get well" cards, birthdays, and thank you notes; as well as fixes for address verification and a faster checkout. Cards itself is a FREE app, but the cards you make can't be exported or printed; only bought for $2.99 ($4.99 outside the US).
If you have a different opinion, let me know in the comments thread below. You can choose from our many non-existent template responses, or you can personalize your response and we won't charge you a cent.
Download Cards for iOS - FREE [iTunes link]