If you haven't already be sure to download BBM (BlackBerry Messenger) for iOS and Android. BlackBerry rolled out its official BBM app after some delays two days ago and in the first 24 hours of its availability it was downloaded more than 10 million times.
Welcome BBM for #Android & #iPhone users! More than 10 million downloads in the first 24 hours: http://t.co/Mft7h6PFtq

— BBM (@BBM) October 22, 2013
Due to this high demand BlackBerry has had to begun limiting access to avoid crashing its servers.
If you signed up on BBM.com prior to the apps release then you will be able to start using the service immediately, but those just registering will have to wait for their activation email.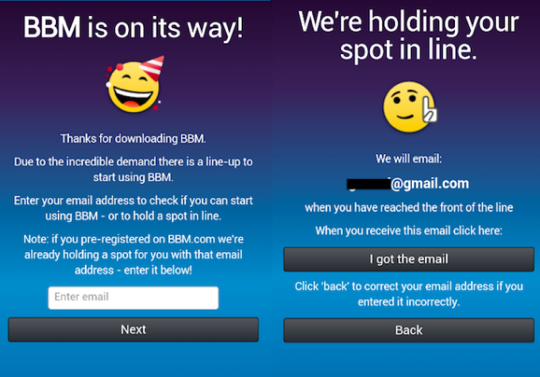 If the app is not yet available in your country this is because the company is doing a staggered rollout according to ITPro.
Andrew Bocking, head of BBM at BlackBerry said "As soon as we are able, we will begin a staggered country rollout of BBM for Android and continue the rollout of BBM for iPhone."
How To Bypass BBM Wait List
If you were indeed able to download BBM for either iOS and Android, but would like to bypass the waiting list CNET has reported a temporary workaround that is probably simpler than you would expect.
Once the BBM app has been installed on your Android or iOS device, open it up and register your email address to join the queue.
Return to your home screen and force-close this app. On iOS, this can be done by double-tapping the home button and swiping the BBM app away. On Android, just enter the multitasking menu and do the same, or go into the Settings app, select "Apps" and then BBM, and then tap "Force Close."
Relaunch the BBM app and you should now be able to create a new BBM account and use the app.
Let us know if this worked for you in the comments section below and how you are enjoying BBM for iOS / Android.