Angry Birds Space hasn't been around long, but it's become quite popular in that short time, as we still love flinging angry birds at pigs. This time it's better, because the birds are in space and there is gravity, no gravity, new birds and all that physics. The game hasn't received any updates so far and many have already finished the game. Rovio has thus, released a new update for Angry Birds Space on both iOS and Android.
The new update features 10 new levels that make the game even more difficult than it already was. The gameplay in Angry Birds Space isn't as simple as it was and these new levels have them pigs orbiting around the planets. That's not it, the update also adds a golden eggteroid to the game. Also, iOS users will get 20 free space eagles when you update, plus one free for every day you login. Android peeps will have to work hard to get those Space eagles.
A new moon rises and puts pigs in motion! If you thought it was hard to pop pigs in space before, just wait til they're orbiting around the icy planets in these 10 NEW LEVELS!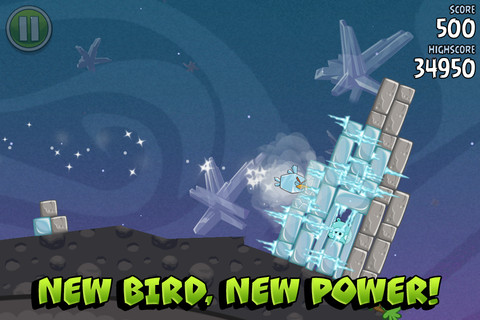 The new episode consisting of the 10 new levels is called Fry Me To The Moon. You can download Angry Birds Space for iOS from the App Store and Android from Google Play Store. The iOS version costs $0.99 (iPhone/iPod Touch), $2.99 (iPad) and is free on Android.
Download Angry Birds Space for iPhone/iPod Touch [iTunes Link]
Download Angry Birds Space HD for iPad [iTunes Link]
Download Angry Birds Space for Android [Google Play Link]