If you remember back to the middle of July memories of Digg being sold to Betaworks for a measly $500,000 probably come to mind. Now you might be thinking to yourself, a measly $500,000? What is he talking about… that is a lot of money. And I would have to agree with you there, it is a lot of money, but compared to the $200 million Google was thinking of purchasing Digg for a couple years ago it is not.
Unfortunately Google's acquisition of Digg never went through because Google was not confident Digg would be a profitable purchase, and they were right. Digg has seen a dramatic drop in users due to social networks like Facebook and Twitter. It looks like Digg will not just bite the dust however, as mentioned on their blog the company is going to once again become a startup.
On July 20, we announced that we were turning Digg back into a startup and rebuilding it from scratch in six weeks. After an intense month and a half, we managed to get the new Digg up and running on a fresh code base and infrastructure. We now have a solid foundation on which to build, and we expect to build fast. Yesterday, we previewed the new Digg applications for web, iPhone, and mobile web and today we're happy to share Digg v1.
The new website not only looks great, but works great as well. It is much easier to find content, navigate, share news and definitely looks more "web 2.0." To go along with their website redesign, they have also released a major update for their iOS app as well. It goes along with their revamped website and is sure not to disappoint.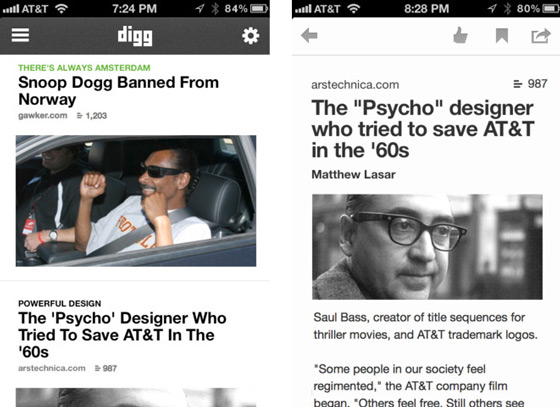 If you have an idea that you would like to see implemented in the Digg iOS app you can email support@digg.com. Furthermore, the entire changelog for Digg v3.0 for the iPhone, iPod Touch and iPad can be found below.
— Read every Digg story in a clean mobile-friendly view
— Digg your favorite stories and share them with your friends on Facebook, Twitter, or by email
— Full support for offline reading. Subway commuters rejoice!
— Save the stories you want to read later to your Digg Reading List (with support for Instapaper and Pocket)
— Introducing "Paperboy" — Simply set your home location so that whenever you leave home, Digg automatically updates with the latest stories!
You can download Digg v3.0 for iOS by clicking here. What do you think of the redesign? Will it be enough to revive dig? Share your responses and further thoughts in the comments section below.