If you own a smartphone, you usually have to subscribe to a data plan so you have access to internet wherever you go. Data plans are usually not cheap and are very limited, so it's always a safe bet to know when you cross that limit. DataMan Next is a new iOS app, that tracks your data usage in a simple yet beautiful way.
There are plenty of apps and jailbreak tweaks that track data usage, but this has to be the prettiest. It looks simple, but has plenty of options that would leave other similar apps in the rear-view. DataMan Next shows how much data you've used, both over Cellular and Wi-Fi in a simple and clean interface, highlighting only the important stuff. Since the data plan recycles every month, you only have to set the date once.
It tells you if you're within the limit, crossed it or are about to cross it in beautiful and appropriate colors. The app even predicts if you're going to stay within the limit or not. All this happens in real-time and all data comes directly from iOS. You don't have to go in to Settings to find out your usage or install any tweaks. You can even know your past usage via the History tab and it works with any carrier. Here's everything that it can do:
Track cellular (LTE/4G/3G) and Wi-Fi usage
Four levels of threshold alerts
View past usage by bill cycle
Work with all carriers
Easy to set up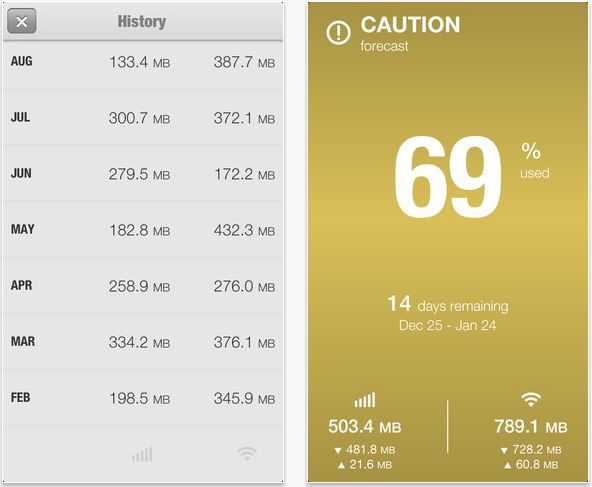 DataMan Next for iOS is available in the App Store for $0.99 and it works great with all iOS devices. If you've been looking for an app that tracks your data usage, but doesn't sacrifice on looks, then this is the one. Try it out and let us know what you think of it. What other app or tweak do you use to track your data usage?
Download DataMan Next for iPhone, iPod Touch and iPad [iTunes link]