Sometimes taking video on the iPhone is a real pain if you are someone with less-than-steady hands. Even if you have pretty steady hands, getting that perfect shot isn't easy unless you have a tripod handy. This isn't to say that  shooting good video on the iPhone is impossible, but it definitely takes experience.
What if there was an application that could aid you in your iPhone videography? Well, there is no doubt a lot of these applications on the App Store, but one app stands out from the crowd. In fact, this app that I am about to share with you was awarded The Pogie Award for the brightest Ideas of 2012 by The New York Times. It is by far one of the more innovative ideas I have seen for an application recently, but unfortunately breaks the rule of not shooting vertical video (I might make an exception this once though).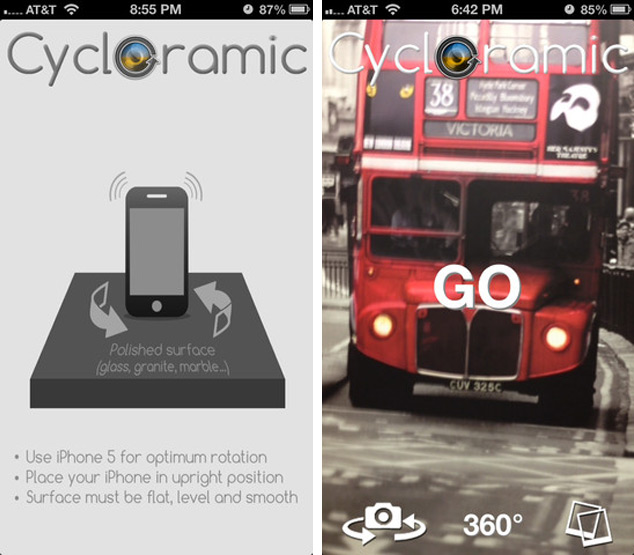 The app is called Cycloramic and what it does is automatically spins your iPhone 5 while taking a panoramic video. That is right! Just by using vibrations Cycloramic spins your iPhone 5 around on a hard surface (hands free). As mentioned in the app's description this is perfect if you are gathered around a dinner table, in a bar, in a club etc and want to capture the moment (handsfree) in a unique and fun way whilst making you and your phone the talk of the event!
Keep in mind that this app is indeed only designed for the iPhone 5 and must be used on a smooth, hard and most level surface like Granite, Glass, ceramic, Laminate Wood etc. You can also choose whether to use the front or back-facing cameras on your iPhone and also how many degrees you want your iPhone to rotate.
If you are interested in Cycloramic, heck even Steve Wozniak is, you can download it from the Apple App Store for a price of $0.99.
Download Cycloramic for iOS [iTunes Store]