Updates to iOS apps keep coming and it is our job to let you know of them. Today, Cut the Rope, Skype and Foursquare for iPhone have received new updates from their respective developers.
I'm sure you love Cut the Rope, well you will love it even more as there is a whole new box. Cut the Rope version 2.2 brings a brand new box to the app. This new box, called Lantern Box, has been added as a part of the celebration of the Chinese New Year.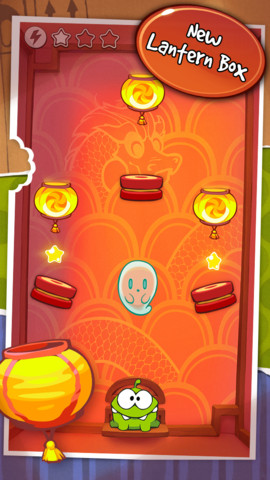 It includes 25 new levels and has a new gameplay element. There are floating paper lanterns that are present throughout the game that act as obstacles and can be turned on/off. Watch the gameplay video below:
That's pretty much it. This brings the total number of puzzle boxes available in Cut the Rope to 14. Cut the Rope is available in the App Store for $0.99 (iPhone, iPod Touch), and $3.99 (iPad-HD version).
Download Cut the Rope for iPhone and iPod Touch [iTunes link]
Download Cut the Rope HD for iPad [iTunes link]
Earlier this week, Microsoft released an update for Skype on iPad, bringing several new improvements. Following that update, they've also done the same for the Skype for iPhone app. Version 4.5 of Skype for iPhone/iPod Touch will now automatically reconnect dropped calls when your Wi-Fi or Cellular connection is bad.
The new version also lets you dial emergency numbers from the apps dialpad, which is then automatically connected through the phones dialpad. This is useful when your Skype app is open. Apart from that, the order of chats has been fixed and other bugs have been taken care of. Skype for iPhone version 4.5 is available in the App Store for free.
Download Skype for iPhone and iPod Touch [iTunes link]
Foursquare has also pushed out an update to their iOS app, bringing in improvements to the check-in notifications. You can now head over to Settings in Profile and choose when you want to be notified about your friends check-ins.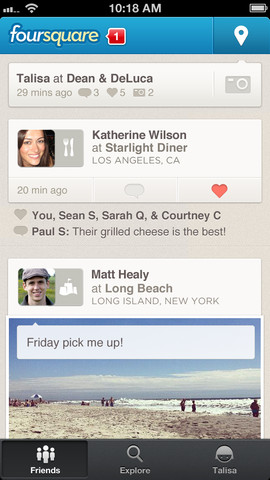 Selecting 'Always' will give you notifications about all their check-ins, every time and wherever they are. Select Nearby and you'll only be notified about your friends' check-ins when they're nearby your location. If you don't want to get notifications about someone's check-ins simply choose Off and you won't be disturbed.
Download Foursquare for iPhone, iPod Touch and iPad [iTunes link]