Do you remember the original MobileTerminal for the 3xx firmware; the version that supported gestures , scrolling and advanced preferences? I for one do, and while MobileTerminal V4.2.6 is looking like an impressive project, it is not complete and missing a lot of features. In fact there has been a lot of confusion regarding Allen Porters MobileTerminal Vs the original MobileTerminal. Allen Porters MobileTerminal (which is v4.2.6), is actually a complete rewrite of MobileTerminal; and is not based on the original 3.6.4 MobileTerminal. That is why MobileTerminal V4.2.6 (iOS 4 compatible version) is lacking so many features like gestures, scrolling etc…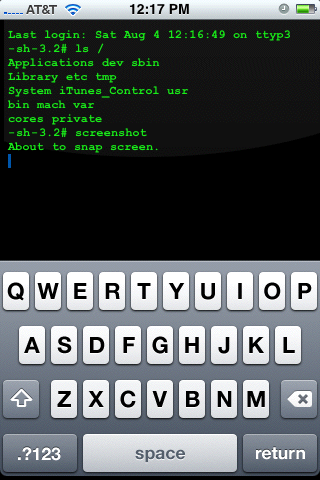 Recently Saurik commented on why Allen Porters Version was not listed in Cydia by default.
Saurik: As for the current MobileTerminal package in Cydia, it is much more functional than revision 426, but does not currently work on iOS 4. What made MobileTerminal useful/interesting was its intricate gesture support, allowing for modifiers like control, special keys like escape, and entire commands to be bound to fast movements on the screen. MobileTerminal 426, meanwhile, doesn't even support scrolling the terminal screen. It is therefore incredibly depressing to the core community of users of MobileTerminal that the development has taken the direction it has: users of the existing copy of MobileTerminal simply cannot be upgraded to the "latest" release, as it frankly is an entirely unrelated project.

It is my personal opinion that Allen should have renamed this new version of MobileTerminal to something different, like "MobileTerminal Redux" or something, to indicate this. Due to this confusion, when and if MobileTerminal "426" is released to Cydia, it simply cannot be listed as a direct upgrade to MobileTerminal "364". When and if this occurs, the current "MobileTerminal" package will be renamed to "MobileTerminal Classic" or something, but retain its package identifier, so existing users can safely continue using it until MobileTerminal manages to regain the functionality that it once had.
It is a long comment made by Saurik but really helps with the confustion going on between MobileTerminal and Allen Porters MobileTerminal. In short, Allen Porters MobileTerminal is a new project and a new direction for MobileTerminal. When it is complete it will be one awesome terminal app, however as of right now it is missing to many need features.
It is for this reason that Saurik decided to step and and port MobileTerminal V3.6.4 to work on the iOS4 firmware generation. In only a short amount of time he has compiled an Alpha version, which he has released for users to start testing on their iDevices. It must be noted that this is an alpha version and it is known to not work on all iDevices. This alpha version is simply the first step, to get everything working on iOS4 iDevices. You can download this alpha version of MobileTerminal below…