Google recently released an update to its Voice iOS app and are following that with updates for their Google Drive and Chrome iOS apps. Google Drive for iOS has been updated with the ability to edit spreadsheets. Chrome gets the ability to open PDF files in other apps and Passbook support.
Chrome browser on iOS is much better than the stock iOS Safari browser and with this update it gets better iOS 6 support. With Chrome for iOS version 23.0.1271.91 (WOW) you can open PDF files in other apps such as Adobe PDF Reader. You can also make use of the Passbook app in iOS 6 and save tickets, passes and more. There's also a text encoding detection feature that improves text in web pages, apart from that you'll find various bug fixes and stability improvements.
Google Drive for iOS gets the much needed ability to create, edit and work on spreadsheets. Spreadsheets directly upload to Google Drive from other apps using the 'Open In' feature. The new Uploads section shows recent uploads and lets you easily manage all your uploads. The app also gets better text editing with copy-paste, formatting etc. The speed of the app has been improved and now it actually feels like an app that people would love to use.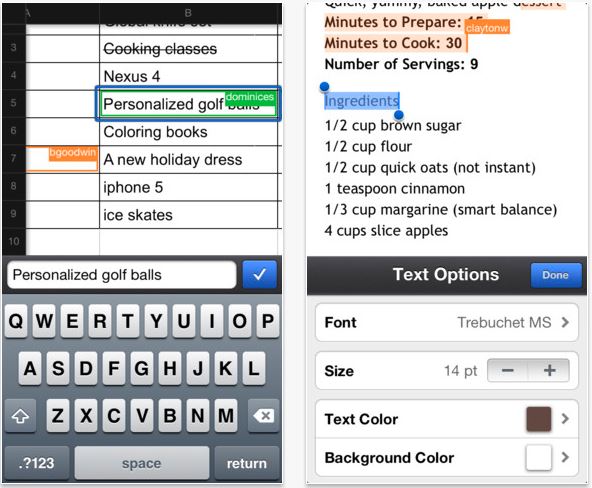 With this update, the Google Drive app gets much needed improvements that users have been waiting for a long time. Now Google has pretty much made all of its Android apps available on iOS, except for the Google Maps app. The Google Maps app will also be available for iOS users shortly though. Google is doing a really good job of providing regular updates to all of its iOS apps!
Both Chrome and Google Drive apps for iOS are available for free in the App Store. If you already have them installed, simply update them and tell us what you think of the new features.
Download Chrome for iPhone, iPod Touch and iPad [iTunes Link]
Download Google Drive for iPhone, iPod Touch and iPad [iTunes Link]