Burner Provides Your iPhone With Disposable Phone Numbers, Keeps Your Real Number Private
Ad-hoc lab's Burner – Disposable Phone Numbers was recently updated with iPhone 5 and iOS 6 support in mind. As you would expect, Burner is a front-end for a service that allows users to make and receive calls through temporary phone numbers. With burner you can have multiple phone numbers that you can easily replace.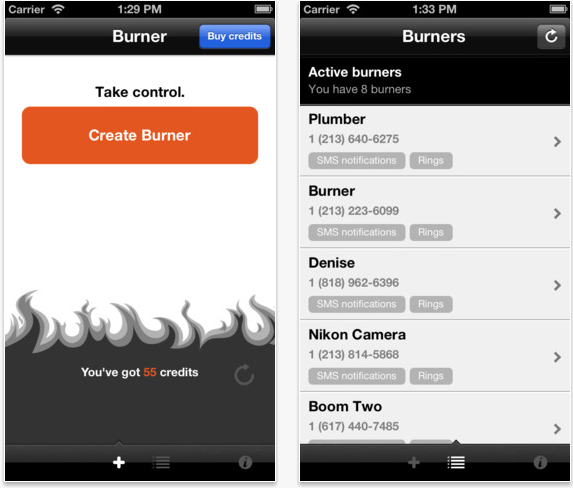 There are plenty of situations where you want to be able to be contacted without giving away your personal cell phone number. If you leave your real cell number on a craigslist posting, you're practically inviting spam calls for the rest of your life. Same issue if you're leaving your phone number on a job search profile. It's all about being able to have a connection open when you need it, and for it to rescind it when you don't. Since the iPhone doesn't include a built-in call blocking feature, users have to install third-party apps like Burner to get some degree of controlled privacy.
Unfortunately that privacy doesn't come cheap. The $1.99 Burner app comes with a 'mini-Buner' number that is good for 7 days, 20 minutes of voice call, and 60 texts, whichever comes first, or you can burn the number away even earlier. The accounts will also use your actual in-phone minutes on top the burner service, so use your minutes wisely. That said, you can get a month-long temporary phone number that allows for 90 minutes of calling and 270 texts for $4.99. On the bright side, the text messages don't count against your real phone plan.
Despite the requirements listing the iPad and iPod Touch, Burner actually requires the iPhone for making phone calls. It's also incompatible with MMS and 911 emergency services and only currently works in the united States and Canada.
Download Burner for iPhone [iTunes App Store]
What's your opinion of disposable phone number services? Share your thoughts in the comments section below.
Make sure you stay subscribed through our social media feeds, so that you never miss a beat, by liking us on Facebook, following us on Twitter and joining our circle on Google+.
Hey, you! Join the iJailbreak Insider for weekly newsletters, Jailbreak alerts, contests and more. (No spam, we promise)