Bump for iOS, a popular file sharing app, has been updated to version 3.5 with new features. Viber, another popular app that lets you make free voice-calls and send texts over Wi-Fi or Cellular, has also received an update.
Bump Technologies has released a very nice update to the Bump for iOS app. Version 3.5 of Bump now lets you send any file across other devices with Bump installed. You can send videos, docs, spreadsheets, music, photos and more. All you have to do is bump the devices together. Previously, the app only allowed for the sending of contacts.
For Bump to work you'll need to be connected to the internet, because that's how your files get transferred between devices. The app uses the your device's sensors to feel the bump and then sends information to its servers to pair them. Bump is also cross-platform, which means that you can share things between an iPhone and Android device. It is indeed a pretty useful app and recently crossed 112 Million downloads. Next up, Viber.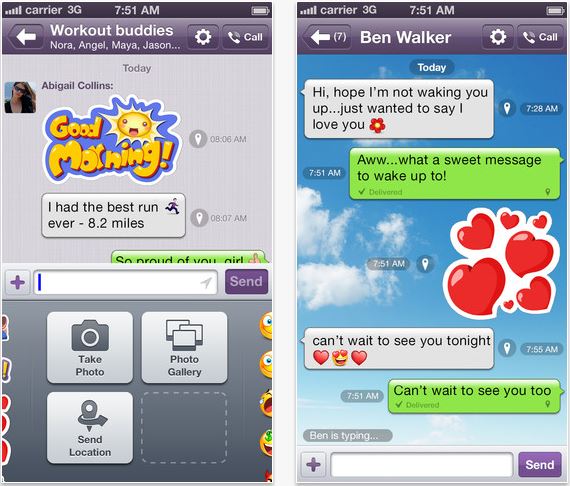 Viber for iOS has been updated to version 2.3.0. The new version doesn't really bring any big changes, but it does include support for the taller display on the iPhone 5, as well as iOS 6 support. In case you aren't familiar with Viber, it's an app that lets you send free text messages and make free-voice calls over Wi-Fi or Cellular. With the latest update, you can share stickers with friends, add emoticons in text messages and send your location information.
You also get an updated interface with a new keypad and sounds that provide a better messaging experience. Viber has also bumped up the number of people you can chat in groups to 40, which was previously 16. So, it's now easier than ever to chat with all your friends. Bump and Viber are both available in the App Store for free.
Download Bump for iPhone, iPod Touch and iPad [iTunes link]
Download Viber for iPhone, iPod Touch and iPad [iTunes link]