The BiteSMS team have pushed out a beta version of their popular SMS/MMS jailbreak application that brings support for iOS 5.
Due to the overwhelming number of emails from users wanting to be private beta testers, we have decided to release this iOS 5 compliant version via a public beta repos.

This is a very early beta release, so at this stage please don't email us bug reports as we most likely know about them. This is not a normal beta, it's more that users running iOS 5 would no doubt prefer something as opposed to nothing!!!

Saying that, it's a pretty stable release and we hope you like the new look Quick Compose and Quick Reply plus the deep integration with the Apple Notification Centre. Also iMessage works seamlessly inside biteSMS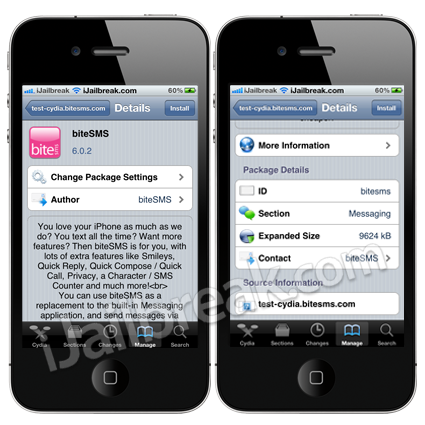 Beta 2 – released on 20 September contains:

Now works on iPod.

Install no longer requires a reboot.

Fixed bug in Quick Compose and Quick Reply, where buttons could be incorrectly displayed.

Beta 1 – released on 19 September contains:

First release.

Main issues still being worked on:

A number of features are yet to be implemented (it tells you which ones if you try to use them).

Animations are still slow / incorrect in a number of places, especially Quick Compose and Quick Reply.

Search crashes at present.

Badge is slow to 'update itself'.

Currently does not work on iPad.
To install the beta version of BiteSMS, add the following source in Cydia:
Note: You must perform a tethered reboot after install.
For more information about the beta releases you can head on over to BiteSMS's forums. Let us know what you think of BiteSMS in the comments below…