Rovio and Chillingo have released new updates for Angry Birds Space and Cut the Rope, respectively. Rovio's Angry Birds Space has been updated with a new Pig Dipper episode and Chillingo's Cut the Rope gets an all new Steam Box.
Angry Birds Space version 1.4.0 update brings a new episode called Pig Dipper. This new episode consists of 30 new levels with brand new water physics. In this update, all the new planets are filled with water and them Bad Piggies are on boats. The new water physics mean that you can come up with some really fun shots to take down those pigs.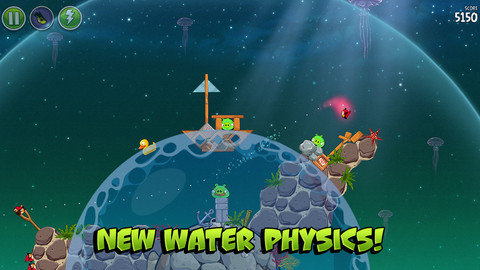 The new Pig Dipper episode also consists of some new power-ups such as Flock of Birds, Space Egg and Pig Puffer. Flock of Birds unleashes huge flocks of birds on the pigs, whereas Space Egg creates a black hole and sucks everything into it. Pig Puffer, as the name suggests, puffs them pigs up. Attack the puffed pigs with the Ice Bird and see what happens. Three stars in all levels will give you 3 bonus levels, and there's also an awesome underwater boss level.
Next up, Cut the Rope by developer Chillingo. The game, which is popular for its insanely cute monster and gameplay, has been updated to version 2.1. The new update brings a brand new Steam Box consisting of 25 new levels. Get candy into Om Nom's mouth with the help of steam clouds. You can adjust the amount of steam with the help of valves. It's fun, try it out.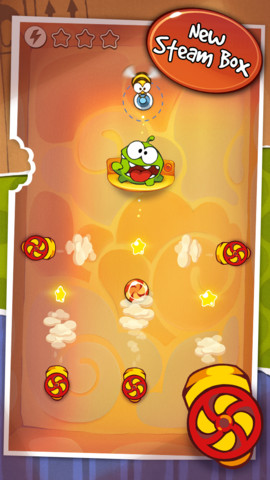 Cut the Rope is a really addictive game and has won many awards, such as Apple Design Award, BAFTA, Pocket Gamer Award etc. Make sure you download the latest update and try the new steam levels.
Angry Birds Space is available in the App Store for $0.99, whereas the HD version for iPad is available for $2.99. Cut the Rope is similarly priced at $0.99 and available in the App Store. It too has an iPad version that costs $2.99.
Download Angry Birds Space for iPhone and iPod Touch [iTunes link]
Download Angry Birds Space HD for iPad [iTunes link]
Download Cut the Rope for iPhone and iPod Touch [iTunes link]
Download Cut the Rope HD for iPad [iTunes link]