Adobe Confirms Flash Development Dies With Ice Cream Sandwich
After the news was broken we knew this day would come sometime. Adobe has confirmed that the development of their mobile Flash plug in will stop after the deployment of Flash for the upcoming Android 4.0 or Ice Cream Sandwich release.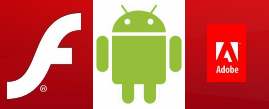 What does this mean for mobile browser, well after Ice Cream Sandwich we will be without Flash. This means that Google next mobile operating system, Android 5.0 (Jellybean) will be without any Flash support and be using HTML5. While I am confident most of the content that users need will be easily accessible by that time, there still may be some sites which lose functionality.
Adobe will release one more version of the Flash Player for mobile browsing, which will provide support for Android 4.0, and one more release of the Flash Linux Porting Kit - both expected to be released before the end of this year," a company spokesperson told us.
Adobe has confirmed that they will have a version of Flash available for Ice Cream Sandwich users by the end of 2011. As of right now, we know that Ice Cream Sandwich has no Flash support available. Afterwards, Adobe plans on only providing critical bug fixes and security updates to their plug-in on mobile devices.
Tell us what you will miss most with the end of Flash on your phone in the comments below.
[Via PocketLint]
Make sure you stay subscribed through our social media feeds, so that you never miss a beat, by liking us on Facebook, following us on Twitter and joining our circle on Google+.
Hey, you! Join the iJailbreak Insider for weekly newsletters, Jailbreak alerts, contests and more. (No spam, we promise)