Rovio has had an impressive year in 2012 to say the least. The development company racked up more than 1 billion downloads across all platforms, launched new titles such as Amazing Alex and continues to sell its games like hot cakes. On Christmas day alone the Angry Birds franchise saw over 8 million downloads on Christmas day, with over 30 million downloads during the week of December 22-29th.
Rovio has stated on its official blog that customers should stay tuned for "even more incredible surprises!" in 2013.
This spike in downloads was due to iOS and Android devices being a hot item over Christmas. According to the mobile application analytics firm Flurry, a record breaking number of 17.4 million iOS and Android devices were activated worldwide on Christmas day alone with over 50 million across the Holidays.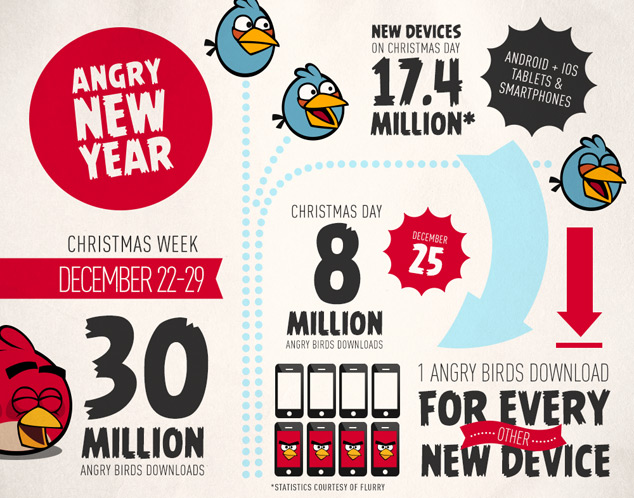 It isn't expected that Rovio will slow down in 2013 and with a movie on the way, Angry Birds is likely to be engrained in pop culture for years to come. If you haven't downloaded Angry Birds yet, why not download the latest Angry Birds Star Wars by using one of the download links below.
Download Angry Birds Star Wars for iPhone and iPod Touch–$0.99 [iTunes App Store Link]
Download Angry Birds Star Wars HD for iPad–$2.99 [iTunes App Store Link]
Download Angry Birds Star Wars for Android–FREE [Google Play Store Link]
Download Angry Birds Star Wars for Mac–$4.99 [iTunes App Store Link]
Download Angry Birds Star Wars for PC–$4.95 [Angry Birds Shop Link]