It looks like Sony is making big moves at this year's IFA in Berlin, with the announcement of several new Ice Cream Sandwich powered devices, including three smartphones and a tablet. The smartphones are (super inventively) named the Xperia V, Xperia T and Xperia J, while the tablet is called the Xperia Tablet S. Good luck trying to keep track of which one's which.
Let's take a look at each of these devices separately. First up, the Xperia V.
This is an impressive looking high-end smartphone, with a touch of ruggedness on top. Sony says it's water resistant enough to survive in 1 meter of water for 30 minutes; you won't want to go scuba diving with it, but it's not the end of the world if you drop it in the sink. Beyond that, it's got some impressive specs like a 13-megapixel camera, a dual-core Qualcomm CPU clocked at 1.5GHz, and a 4.3″ LCD panel.
It will run Ice Cream Sandwich out of the box, but will get the Jelly Bean upgrade just a couple weeks after release. You'll be able to grab one sometime in Q4 2012. It's also PlayStation certified, which means you'll be able to take advantage of the recently announced PlayStation Mobile games.
Next up, the Xperia T:
The Xperia T looks like the larger, less rugged version of the Xperia V. Same camera, same Qualcomm processor, same operating system, just with a slightly bigger 4.55″ screen and no promises of waterproof-ness. Sony is promising a swift Jelly Bean upgrade for this one too, and it's also PlayStation certified.
Of the three new smartphones, this will be the first one to arrive, with Sony announcing it will hit stores "over the next few weeks."
Rounding out the smartphone announcements is the Xperia J:
This looks like it will be Sony's new entry-level smartphone, and will go head-to-head with phones like the Galaxy Ace. It's a pretty basic affair, with a 5-megapixel camera, a 4-inch screen, and a single core 1GHz processor. Fortunately, it still runs Ice Cream Sandwich, which gives it a leg up on a lot of the other entry-level smartphones that are still running Android 2.3.
The Xperia J is also set for a Q4 2012 release.
Finally, we come to the Xperia Tablet S: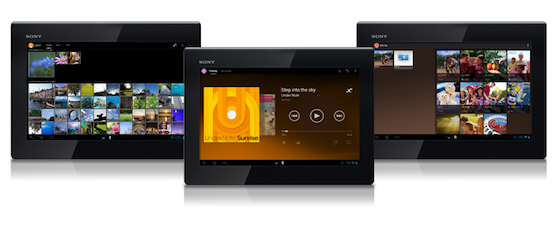 Sony's new foray into the world of tablets is a solid if unremarkable device. It sports a 9.4-inch display, a quad-core Tegra 3 processor from NVIDIA, front and rear cameras, and of course the Ice Cream Sandwich OS. They also promise it will be splash resistant, which I guess is a good idea if you like carrying your tablet around in the rain or something.
The Tablet S also has an SD card slot, which is a great leap forward for Sony. They've traditionally opted to include Memory Stick Pro slots instead, in an attempt to push their proprietary technology. It's good to see them getting on the universal format bandwagon.
Of all the newly announced Sony devices, the Tablet S is the only one with a concrete release date. It will be available quite soon, in September 7.
Whether you're looking for a super powerful new smartphone, something more entry level, or a big tablet, Sony will get you on the Ice Cream Sandwich platform however you want to get on it. With the Android device market already pretty crowded, Sony looks ready to become a serious contender with devices like these.