Android is used on a variety of devices, but it is usually limited to smartphones and tablets. However, at CES 2013 Samsung announced its first attempt to bring Android to the home appliance market with the T9000 "Smart Refrigerator."
From a distance the refrigerator looks like a normal 4-door refrigerator, but upon closer inspection you will find a touch panel on the top left door running a very deconstructed Android-based operating system that has many of the same apps that you would find on the Android Market. If you have your own home Wi-Fi network, you can connect your refrigerator to the Wi-Fi network and apps such as Evernote (demonstrated as a way to make shopping lists while looking at your fridge) will sync to any PCs, Macs, iOS, or other Android devices logged in to your Evernote account. Other apps available include Epicurious, a recipe app. Just select a recipe, it will generate a shopping list for you, and you can check off the items you already have in your refrigerator before syncing the shopping list to another device running Epicurious.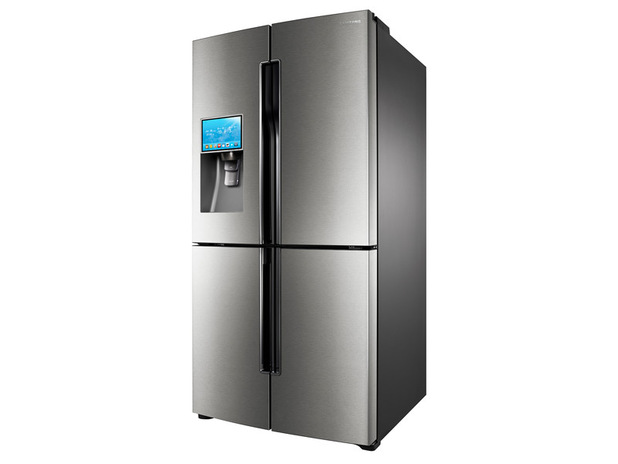 There is a catch. Samsung has also announced that the "tablet" will detect the food-related words you use most often and send you personally-tailored onscreen advertisements in the form of cupons. This is obviously not ideal, and could get in the way of shopping lists. Samsung has yet to say if there will be an option to turn off the ads for a small fee.
You can see a preview of the refrigerator here:
Samsung hasn't announced any pricing or availability for the T9000 with an LCD screen, but the non-LCD version will cost you a stunning $4,000. Is anyone willing to pay that much for a new refrigerator, and does the LCD really make it that much better? Hard to tell, but we'll see when the T9000 hits the market, likely later this year.