Months after its release, the Samsung Galaxy Nexus will finally be available on the Sprint network starting April 22nd. You would think that this would drastically affect sales, but apparently not. It appears that Sprint is actually sold out of pre-orders. Even more impressive, it sold out in only 3 days (don't worry, you should be able to pick it up from your local Sprint store on launch day).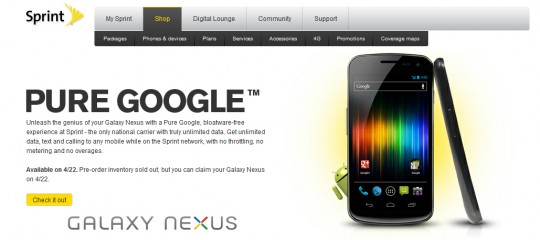 However, as PhoneArena points out, its unclear how many handsets Sprint has in stock for pre-orders. This makes it hard to judge whether Sprint should prepare for amazing sales, or just bad planning. Nonetheless, someone wants the Galaxy Nexus.
LG's Viper 4G LTE handset is priced $100 cheaper and has been available for pre-order longer than the Galaxy Nexus and still hasn't sold out. So it looks like the smartphone may actually still be pretty hot.
What do you think? Will you be picking yourself up a new Galaxy Nexus?