The giant phone a.k.a Samsung Galaxy Note is, without any doubt, one of the most awaited devices of the year. Why? Because it has a 5.3 inch screen that works both as a phone/tablet display and a big enough surface for placing a bottle of wine. The Note is big from the inside too, with a 1.5GHZ dual-core processor, a 2500mAh battery, 1GB of RAM, and an 8MP camera.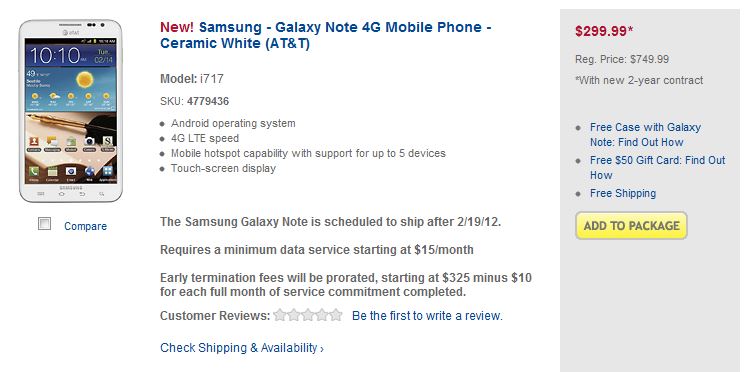 Now, you can get all that delivered to you by February 17th along with a range of accessories, when you pre-order it. Both AT&T and Best Buy are now taking pre-orders for the Galaxy Note in the United States. The device comes in carbon blue or ceramic white and starts at $299 with a new 2 year contract. A lot of people have been eagerly waiting for this bad boy to launch in the States, specially after watching all of those Samsung commercials that tease Apple users.
The Samsung Galaxy Note, with its huge 5.3 inch Super AMOLED screen, resolution of 1280×800 and Android 2.3.7 OS is a super fun device. If you're into big screens on a mobile device, then you should certainly get this. Also, if you pre-order from Best Buy, a flip cover will be delivered to you for free.
Pre-order Galaxy Note from AT&T
Pre-order Galaxy Note from Best Buy