The latest Nexus products from Google, the Nexus 4 and the Nexus 10 are now available on the Google Play Store. Unfortunately both the devices were sold out just hours after they were available online  though.
Google's Nexus 4 is the successor to the Galaxy Nexus and is manufactured by LG. The Nexus 4 comes with the latest hardware, offering a 1.5GHz quad-core processor, lots of RAM and Android 4.2 Jelly Bean. There's also a 4.7-inch display so you can enjoy the latest Android mobile OS. Just minutes after the device was available in the U.K Google Play Store, it ran out of stock. What makes this a successful product is the pricing. The 8 GB Nexus 4 will set you back just $299, which makes it the best priced phone ever. There is no competition.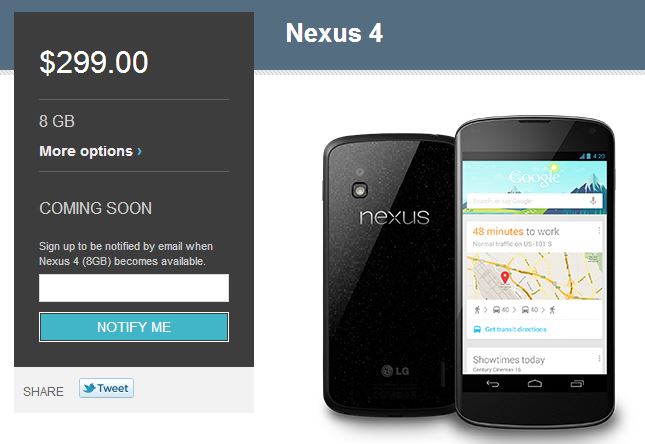 The company has also made available its latest Nexus tablet on the Google Play Store. The Nexus 10, manufactured by Samsung, has a 10-inch display, Exynos dual-core processor and also runs on the latest Android 4.2 Jelly Bean operating system. Again, both the 16 GB ($399) and 32 GB ($499) models are out of stock on the U.K Google Play Store.
Both the Nexus 4 and Nexus 10 are competitively priced, so it's not surprising that they were sold out so soon. If you visit the Google Play Store now, you'll be greeted with a 'Notify Me' button.
Buy Nexus 4 [Google Play Store]
Buy Nexus 10 [Google Play Store]