Motorola Introduces The DROID RAZR HD, RAZR MAXX HD And RAZR M With Unparalleled Battery Life
Both the Lumia 920 and Lumia 820 were announced by Nokia and Microsoft today in New York. A couple hours after Nokia's event, Motorola also scheduled a joint event with Verizon Wireless to unveil their new smartphone lineup. As Nokia's event happened first, the company cheekily offered to shuttle reporters to the Motorola event; in a Nokia branded bus of course!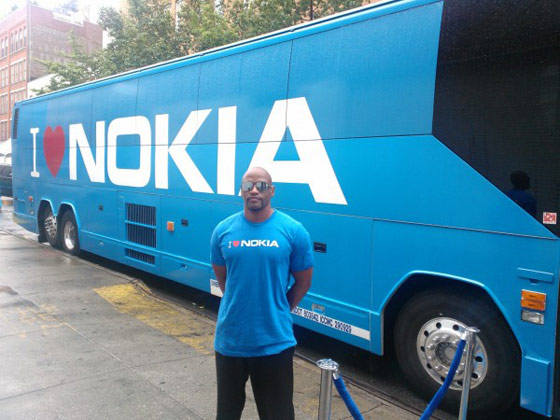 Fast forward to the present and Motorola has just introduced three new smartphones that will all ship by the end of Q4: DROID RAZR HD, RAZR MAXX HD and RAZR M. The very first smartphone that Motorola announced was the DROID RAZR HD, which sports a 4.7-inch HD display that Motorola claims is ahead of Apple's Retina display, a 1.5GHz dual-core Snapdragon S4 processor, 1GB of RAM, 16GB internal storage and an 8-megapixel camera. One area that Motorola strongly emphasized was the fact that the DROID RAZR HD comes with a 2530mAh battery that provides nearly double the talk time of current leading smartphones. Unfortunately the DROID RAZR HD will not come with Android 4.1 Jelly Bean, but rather a modified version of Android 4.0.4 Ice Cream Sandwich.
The DROID MAXX HD was the second smartphone that Motorola introduced today and as you can expected it is a beefed up version of the DROID RAZR HD. Apparently the battery of the DROID MAXX HD will have the longest battery life of any Android smartphone thanks to its 3300mAh battery. As for the actual specs of the smartphone, it will contain the same 1.5GHz dual-core  Snapdragon S4 processor and 4.7-inch HD display, but will have 26GB internal storage.
Motorola introduced one last device called the DROID RAZR M. This specific smartphone is slightly smaller compared to the previous handsets, and features a 4.3" (960 x 540) edge-to-edge qHD display, the same dual-core chip as the previous smartphones, 1GB of RAM, 8GB internal storage, an 8-megapixel camera and a respectable 2000mAh battery. The RAZR M will run Android 4.0 Ice Cream Sandwich initially, but will be upgraded to Android 4.1 Jelly Bean by the end of the year.
The release date for the RAZR M will be next week with a price tag of only $99, while the DROID RAZR HD and DROID MAXX HD will be available before the holidays; all exclusively on Verizon. What do you think of these three new smartphones introduced by Motorola? Let us know in the comments section below.
Make sure you stay subscribed through our social media feeds, so that you never miss a beat, by liking us on Facebook, following us on Twitter and joining our circle on Google+.
Hey, you! Join the iJailbreak Insider for weekly newsletters, Jailbreak alerts, contests and more. (No spam, we promise)