I'm a huge fan of the Humble Bundle project, which is a change to snag a whole lot of games for a very low price, give money directly to developers, donate to the Electronic Frontier Foundation (which, among other things, fights for your right to Unlock, Root, and Jailbreak) and the Child's Play charity. The latest bundle for Android, Windows, Mac OS X, and Linux started off strong with Crayon Physics Deluxe, Superbrothers: Swords & Sworcery EP, Splice, Eufloria, and Walking Mars all on a pay-what-you-want basis, with Machinarium as the initial 'reserve' game.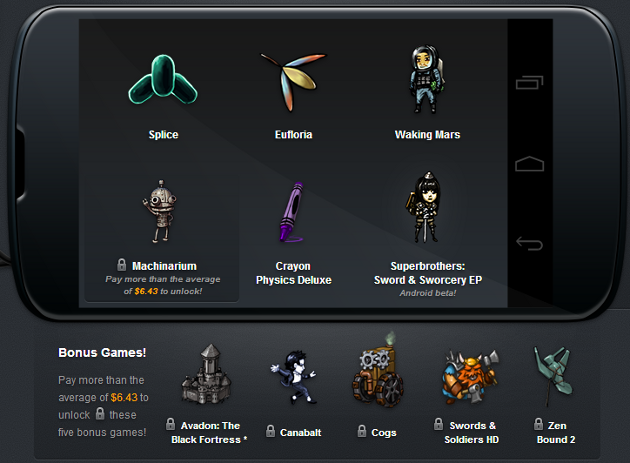 Now in addition to Machinarium, if you pay above the average price ($6.43 at the time of writing), the Humble team will throw in Avadon: The Black Fortress, Canabalt, Cogs, Swords & Soldiers HD, and Zen Bound 2. If you were buying all eleven games at full price, that would work up to $195 in games.
While I already regularly play Canabalt and Zen Bound, I would pay $6.43 just to get my hands on Avadon… if I didn't intend to play it on my iPad, which the Humble Bundle can't support–blame the iTunes App Store's gifting policies.
If you want to get in on the Bundle, the games can be downloaded from the Humble Bundle site, Steam, a dedicated Android App, and even through BitTorrent. The offer's up for another six days. Unless you're only interested in playing these games on iOS, it's a really good deal.
Gameplay from Avadon: The Black Fortress
You can find the Humble Bundle for Android 4 here.
Which of the current Humble Bundle games looks most interesting to you? Share your thoughts in the comments section below.