In case you missed it Google has finally announced the Nexus 5 smartphone that will be coming out of the box with Android 4.4 KitKat. It will feature a 4.95-inch 1080p screen, LTE connectivity and a Snapdragon 800 processor. Those of you who are familiar with your Android handsets will realize that on the inside the Nexus 5 is very similar to LG's flagship G2 smartphone.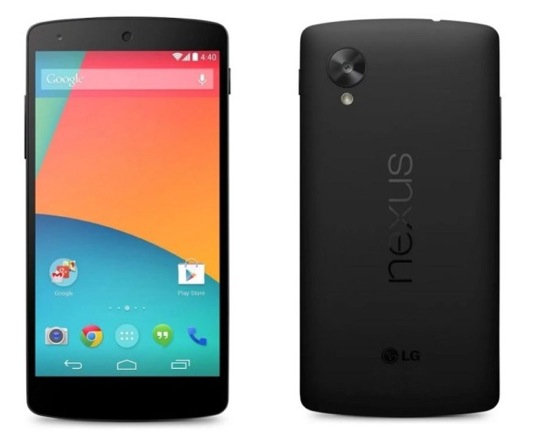 Here are the official specs for the handset though, which will surprisingly start at only $349.
Android 4.4 KitKat
4.95-inch 1080p display with 445 pixels-per-inch
2.3GHz quad-core Snapdragon 800 processor
Adreno 330 graphics
Wireless charging
LTE
8-megapixel rear-facing camera with optical image stabilization
1.3-megapixel front-facing camera
2,300 mAh battery
The Nexus 5 will come in both black and white and can be ordered through Google Play. It's available in the U.S., Canada, the U.K., Australia, France, Germany, Spain, Italy, Japan, and Korea.
In regards to Android 4.4 KitKat specifically Google has took to the official developer site to give more details on the operating system. If you want to learn everything there is to know about KitKat then that is the place to go to, but here are its top features:
Always Listening Google Now: Google Now is always listening, just say "OK Google" and you can begin speaking your query.
Full-Screen Immersion: Applications like ebook readers and web browsers now provide a more immersive full-screen experience. You can of course return to seeing the notification or menu bars by dragging your finger down from the top of the screen or up from the bottom respectively.
Lower-Power Sensors: Just like how the iPhone 5s features a low-power M7 motion co-processor, Android 4.4 KitKat provides support for low power sensors using a process called "hardware sensor batching". This provides improved battery life.
Reduced Fragmentation: Google has reduced the system requirements for Android 4.4, meaning it is possible to run the OS on much older devices.
Better NFC Payments: Google has taken a step to simplify NFC payment applications by providing a new feature called "Host Card Emulation." This facilitates the connection between the applications and the NFC hardware within the Android device. It is thought that this will help NFC payments and other NFC uses gain traction.
Screen Recording: You can now record your smartphones screen with a built-in screen recording feature.
These are just some of the new features in Android 4.4 KitKat which will be rolling out to the Nexus 4, 7, 10, the Samsung Galaxy S4 and HTC One Google Play edition devices in the coming weeks, and everyone else in the near future.