The folks over at Android Police have somehow gotten their hands on a new build of the Android OS's built-in Gmail app. It's version 4.2, which unless Google is up to some shenanigans means it's the version that will be included in the next iteration of Android; Android 4.2 Key Lime Pie.
The leaked version of Google's updated email app brings some much-requested features that have been oddly absent from the app so far. Foremost among these is pinch to zoom; you'll finally be able to zoom in on email elements the same way you zoom in on anything else in your browser, in Google Maps, etc.
The other big update it the addition of swipe to delete/archive. Much like you can currently do with notifications in the main Android notification centre, you'll now be able to swipe away emails from you inbox. What swiping them does is entirely configurable, with options to either archive the swiped messages, delete them, or do nothing.
Finally, the other minor update Android Police points out is that you can now report emails that appear to be phishing, making it a separate options from reporting for mere spamming.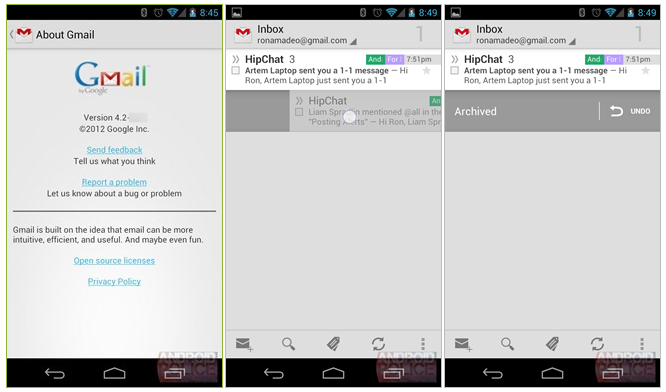 The leak apparently comes from an LG Nexus file dump, but the APK is not available to the public yet. Android Police is "working on getting the permission necessary" to release the updated app to users, but it might be awhile. When it does come out, they say it will require a rooted device with Android 4.0 or higher.
As for when the app will be available from more official channels, that's still pretty up in the air. Presumably it won't be out until Android 4.2 is out, and right now it's looking like the LG Nexus may be the first device that will launch with the new OS version. We'll keep you posted on release dates for the LG Nexus, Key Lime Pie, and this handsome-looking new Gmail app.