It looks like Chrome won't be the only Android browser with its own app store anymore, as Firefox appears poised to get a piece of that pie for itself. The 'Aurora' build of Firefox for Android, an experimental version of the browser intended for developers and brace early adopters to experiment with, has just been updated to include Firefox Marketplace.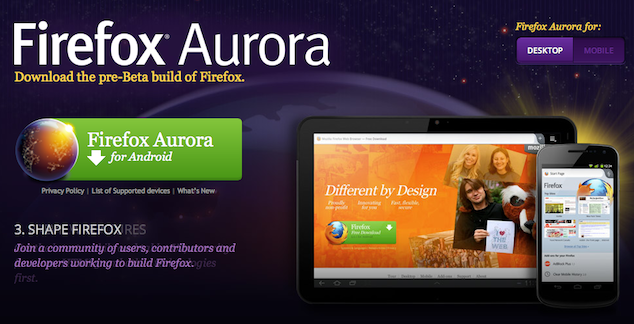 The brand new Firefox app store is pretty bare bones right now, but there's already a small selection of apps available including Twitter and Soundclound. The only apps that are available now are free ones, since the payment system in Firefox Marketplace doesn't exist yet. All that stuff is still in the works.
For now, Mozilla just wants early adopters to try the Marketplace out, and give them feedback on everything from the interface to the apps themselves. In a blog post on the official Mozilla blog, Engineering Manager Bill Walker says, "We're hoping that Aurora users, our awesome early adopters, will go experience the Firefox Marketplace on their Android phones and let us know what they think. Our goal is to collect as much real-life feedback as possible about the Marketplace's design, usability, performance, reliability, and content."
While we're still not sold on the idea of an in-browser web app store, Firefox's version of it does look like it will offer a crisp, clean interface and some pretty well-polished apps. Features like a payment system and user reviews are incoming, so we'll have to take another look at this thing again once it's in a more finished state.
For the foreseeable future, the Chrome Web Store will still hold the lion's share of both users and apps, due largely in part to the Chromebook, which relies entirely on the Chrome storefront to get software.