Near the end of March we told you about an event that Facebook would be holding on April 4th to announce their new home on Android. Sure enough the social networking giant announced what they are calling "Home," which is essentially a home screen replacement for Android phones. Facebook Home integrates deep within Android to not just become a new UI for launching apps, but rather an immersive all around experience to help you connect with your friends from the instant you wake your smartphone.
Facebook Home was designed not just to feel like another app, but rather system software. With Home installed on your Android device your lockscreen will be replaced by Facebook's new Cover Feed that will allow you to scroll through what's happening in your community, with the ability to comment and like without entering separate apps. The entire experience will be very visual with even status updates showing a picture of your friend's cover photo, rather than just being plain text.
Notifications are presented as small cards, which are sorted by an algorithm to determine which updates are most important to you. These notifications can be swiped off screen, and you can even remove all of them at once by tapping and holding a notification, forcing them to group together, where they can be removed at once.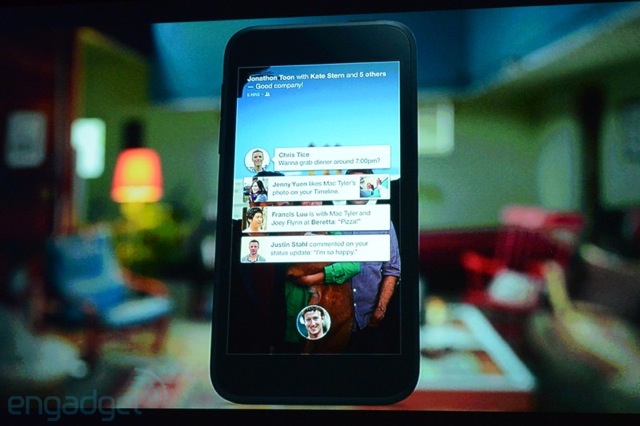 One of the most exciting features of Facebook Home is the new Chat Heads functionality that essentially tightly integrates both SMS messaging and Facebook messaging into one immersive experience. When someone messages you a Chat Head will appear in the app and follow you until you dismiss it, to remind you that you have a message to reply to. Upon tapping one of these chat heads an overlay will appear over the app you are that allows you to reply to it. The color of the chat bubbles will help identify whether it is a Facebook message or an SMS message.
The main method for navigating around Home is a circular icon of yourself that sits towards that bottom of the display. Upon tapping it you will be directed back to your Home that will be populated with social updates, long pressing this icon however, gives you three options. You can swipe to the left for messenger, swipe up for app and swipe right to open your latest app.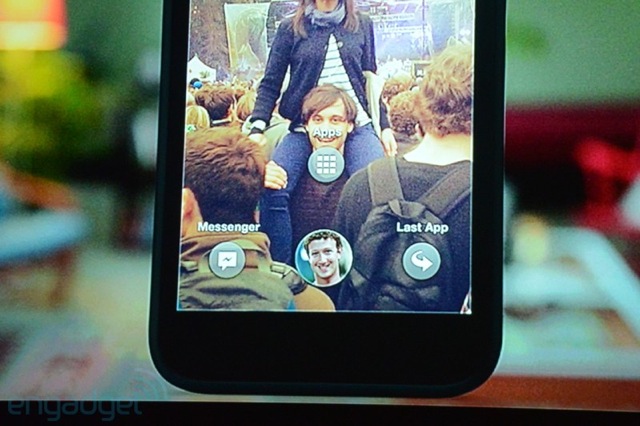 Facebook Home will be available in the Google Play Store on April 12th for the Galaxy S III, Galaxy S IV, HTC One, HTC One X+ and the Note II. More devices will be supported in the coming months, including tablets. Let us know what you think of Home in the comments section.
[Photos compliments to Engadget]