It's the holiday season and during this time is when we usually see an increase in the amount of ads in both TV, Print and Web. Some of these ads are creative and others, well are downright cheesy. One ad in particular, however, that will actually be coming out In January will without a doubt go down as one of the most creative Print ads to be seen in 2014.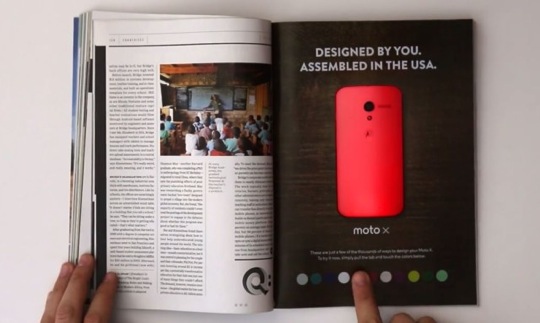 It's for the Moto X, one of Motorola's flagship smartphones assembled in the USA and also one of the most customizable handsets in existence. To showcase just how customizable the smartphone really is the January edition of Wired Magazine will have a full-page ad with built-in LED lights that allows you to change the color of the Moto X printed on the page.
How is that for creative?
It was created by the ad agency Digitas to highlight the Moto X's customizability, and it uses tiny LEDs, a battery, and a paper-thin button membrane embedded inside the page. Due to the cost of the Print ad it won't appear in every issue of Wired, but it will hit around 153,000 people in the New York and Chicago metro areas.