Finally, Motorola DROID RAZR and RAZR MAXX users have something to rejoice about! After months of anxiously waiting for the latest Android software, the Android 4.0.4 Ice Cream Sandwich update for the two smartphones is now official!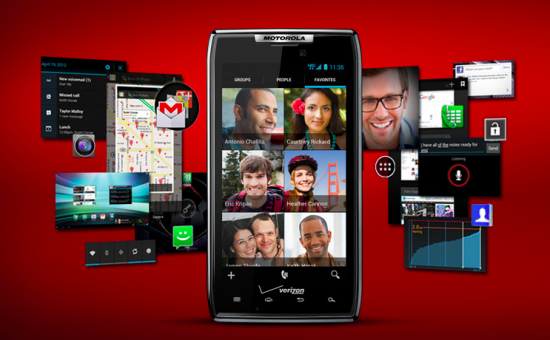 There is no official press release from Verizon Wireless just yet, but all of the exciting details can be found on Motorola's site. The site includes walkthrough videos and all the best highlights of the latest Ice Cream Sandwich software.
OVERVIEW OF CHANGES

The Ice Cream Sandwich upgrade makes your Android-powered Motorola smartphone even better and more powerful than ever. Explore this page to see all the new features and improvements in the upgrade.

LOCK SCREEN AND HOME SCREEN

The lock screen lets you do more without unlocking. Unlock directly to the camera, text messaging, phone dialer, or home screen—even manage music tracks and more.* The new Favorites tray remains visible on every home screen, provides 4 customizable links to apps and contains the All Apps icon for access to all your apps and widgets.
*Note: Enterprise users with required PINs/passwords may not be able to use direct access features.

WIDGET INFO

The portfolio of widgets has been updated to be both comprehensive and streamlined. Watch the video above to see the new widgets, changes to existing widgets, and removed widgets.

CUSTOMIZING THE HOME SCREEN

Customizing your device is easy using the new All Apps screen. This screen lets you launch apps—as well as select and place widgets and apps—on your home screen.

VOICE INPUT

A powerful new voice input engine shows dictation in real time. Talk continuously, pause and speak punctuation to compose emails, texts and more.

SETTINGS & NOTIFICATIONS

The settings menu has been re-organized into logical groupings, with controls for key settings right on the menu. The notification window provides new ways to reach settings and dismiss individual notifications. It's even accessible from the lock screen.

FACE UNLOCK

Unlock your phone with your face instead of a PIN or a pattern. Face Unlock uses the device's front-facing camera and state-of-the-art facial recognition technology to register your face during setup and then to recognize it again when unlocking the device.

CAMERA

The Camera app includes new features including time-lapse video recording and the ability to take snapshots just by pressing the capture button during video recording. Physical volume keys on the device can now be set to act as the camera shutter button or to control the zoom.
The latest update isn't being pushed out over-the-air yet, but that will most likely change within the next few days. This is definitely exciting news for those of you who've been stuck on the outdated software. It's almost here folks!