It looks like earlier rumors of 7-inch and 10-inch variants of the Kindle Fire coming out weren't too far off. In reality, the jumbo Kindle Fire will be just 8.9″, but the idea is the same. Called the Kindle Fire HD, the oversized tablet will be much more than just a Kindle Fire with a bigger screen; it will have some impressive specs to complement its increased screen real estate, and will cost much more than the regular Kindle Fire.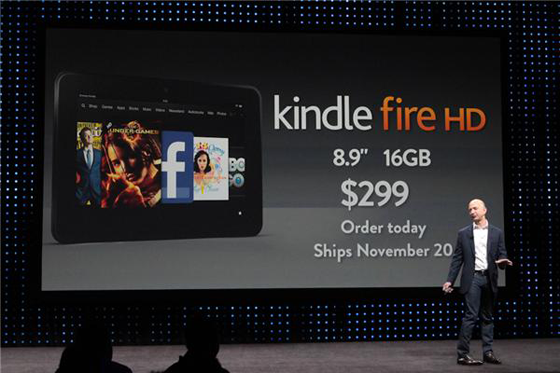 The Kindle Fire HD will boast an impressive 1920 x 1200 display resolution, giving the 8.9-inch panel a hefty 254 dpi. The processor is a Texus Instruments unit which Amazon says can outperform the NVIDIA Tegra 3. 16GBs of internal storage is included, as well as a cloud syncing service called Whispersync for storing game saves and your progress through audiobooks.
All these upgrades over the regular Kindle Fire will come at a significant price increase, but it will still be a pretty reasonable tablet. The Kindle Fire HD will sell for $299, making it almost double the $159 price of the regular Kindle Fire, but still much cheaper than the iPad it wishes to compete with. Unlike the new Kindle Fire, which will be available September 14, the HD version doesn't have an official release date yet. We expect to see it in plenty of time for the holidays, though.
Update: Amazon's Kindle Fire HD Will Also Come In A 7-Inch And 4G LTE Varient
[Images via Cnet]