Thinner, Cheaper Nexus 7 Tablets Are Coming, Say Korean Sources
Just when you thought tablets couldn't get any cheaper, Google might be planning on making them just that. With the current Nexus 7 selling for $199, and the new Kindle Fire going for just $159, it's hard to imagine a cheaper device hitting the market any time soon. Nonetheless, a report by Korean newspaper Digitimes says that a new version of the Nexus 7 might cost just $99. Seriously.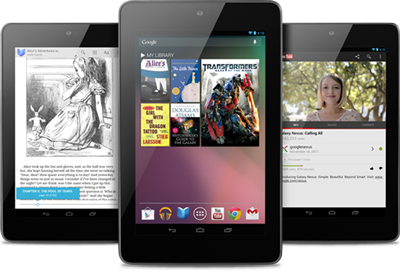 According to Digitimes' "industry sources," Google and ASUS are working on two new Nexus 7 devices, which will be thinner than the current model. One version will maintain the current $199 price point, while the other will be a lower-end device that costs $99. It's possible that the lower-end tablet will be an e-ink model similar to the vanilla Kindle, but the rumor seems to indicate that it's a proper Android-equipped, LCD-screened tablet.
Apparently, this is a move on Google's part to stay competitive once the rumored iPad Mini arrives, though we still haven't seen any concrete evidence of the existence of that mysterious Apple device.
When reached for comment by Digitimes, Asustek (the manufacturer of the Google-branded Nexus 7) denied the rumors entirely. That's sort of to be expected, though, and it certainly doesn't mean these new Nexus 7 aren't in the works.
Make sure you stay subscribed through our social media feeds, so that you never miss a beat, by liking us on Facebook, following us on Twitter and joining our circle on Google+.
Hey, you! Join the iJailbreak Insider for weekly newsletters, Jailbreak alerts, contests and more. (No spam, we promise)