Here at iJailbreak we have talked about the ZAGGsparq numerous times. In fact, we have given away more ZAGGsparqs than we can count because it is just such a great product. For those of you who are not aware of what the ZAGGsparq is, allow me to enlighten you. Essentially the ZAGGsparq is an extremely portable device that carries multiple chargers for any personal electronic device with you. It easily fits into a pocket or back and is the perfect size for travelers and business people.
Today ZAGG has just introduced the next-generation ZAGGsparq, and it has just literally become available to purchase. The next-generation ZAGGsparq contains a lot of upgrades as you would expect, but the most notable aspect is that the device will be split into multiple sizes – ZAGGsparq 1220, ZAGGsparq 3100, and ZAGGsparq 6000. The numbers indicate the size of the battery.
The 1220 version will recharge the average mobile device one time, the 3100 version will recharge the average mobile device twice, and the 6000 version will recharge the average mobile device four times. The 3100 and 6000 versions will also charge tablets. The 6000 will charge the iPad 3 to about 30%, iPad 2 to about 60% and the 3100 will charge an iPad 3 to about 15%, iPad 2 to about 30%. The reason that the numbers are less for the iPad 3 is because the battery in the iPad 3 is twice as large as the battery in the iPad.
You can check out the rest of the ZAGGsparq 3.0's features in the quoted area below:
Rechargeable lithium polymer backup battery
Built-in prongs for convenient charging
When plugged into an outlet, the ZAGGsparq works just like a wall charger (directly charging the device, then charging the internal battery)
On/off switch to prevent battery drainage
Hypercharge Technology™ on select ZAGGsparq models provides 2.1A output for ultra-fast charging, up to four times faster than a standard USB charger
Attractive, durable polycarbonate shell hides scratches and fingerprints
5 LEDs indicate battery level and pulsate one after the other while the ZAGGsparq is charging
Universal charger powers all USB-charged mobile devices
Ergonomic design features a soft touch rubber finish
Charges iPad and other tablets at optimal speed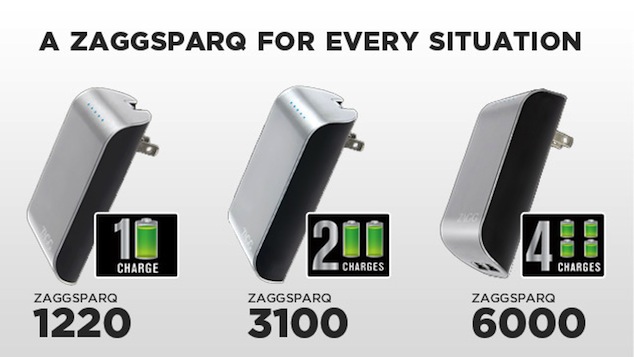 We will have more information on the next-generation ZAGGSparq shortly.
Click here to visit ZAGG.com today!