With the crazy deals going on right now throughout the North America, and the upcoming Cyber Monday at the end of this weekend we thought it is time to jump start our review engine and bring you guys some reviews of this holiday season's most important gifts. Thinking about buying the special someone, friend or family that tablet they wanted? Maybe they want a new phone or MP3 player, well all of those are great gifts, but they all can benefit from some accessory to bring your experience with them to the next level. That is where the kind people over at ZAGG come in. They have kindly sent us a pair of their ZAGGsmartbuds in-ear headphones to give a try. So without any more rambling, lets dive in!
ZAGG is well known for their screen protectors using their patented InvisibleShield technology but they also have a complete line of other accessories for phones, tablets and more. Much like all of their other products, the very first thing I noticed is the unique packaging of the headphones. They came in this triangular  box, which was surprisingly easy to open (that is always a plus!)
Hardware: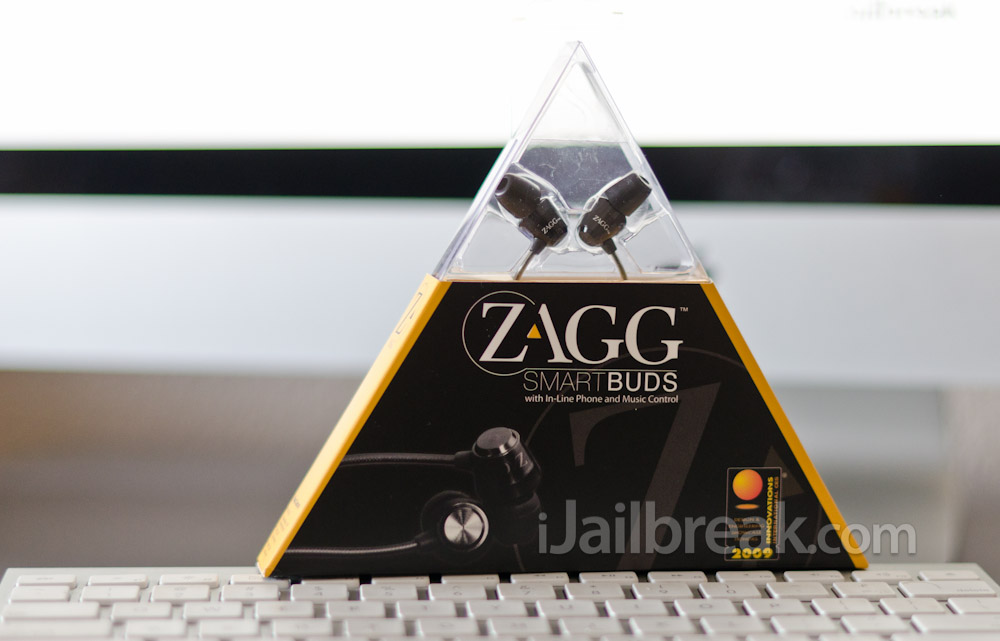 Once you open the package, which is very easy, you see that it includes the headphones (obviously), a small zip pouch to hold or carry everything together, and 5 different tips for the headphones. The pouch as you can see in the pictures below is small, and a cheap fabric material. It is a bit of a tight fit if you want to bring all of the headphones tips with you, but normally you find one or two and stick with them. This zip package is best used to just keep everything together if you are travelling and for some reason need to bring more tips with you.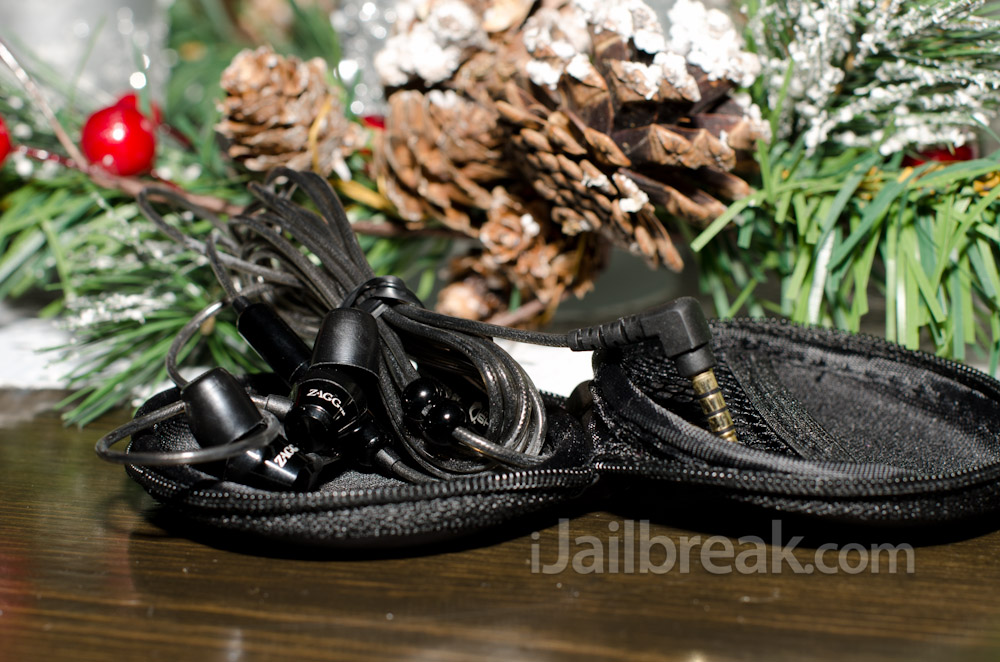 One of the key features of these headphones is something that many of us can't stand dealing with, and we never look into headphones to prevent it. I am talking about tangled headphone cords. We all know how much we hate standing there trying to untangle a huge knot, especially when we are in a rush. Well these headphones are quite opposite. ZAGG has managed to cover the entire cord length with their InvisibleShield technology, making the cable have a slightly unusual feel to it, and look but boy does it work. I tried spinning them around, stuffing them in and out of pockets, trying my little heart out to make these into one of those knots we hate to deal with. The surprising implication of that coating is the cord doesn't actually grip onto itself, creating those knots. Yes I managed to have a couple times where it was one small loop, but nothing like my other headphones. Just a quick pull here or there and bam, the cord is all nice and straight now!
Now onto the cord that the headphones are on…and boy is there a lot of it. ZAGG claims this is a "premium length" I claim it is just too much. Can you have too much of a good thing, I definitely think so. To give you an idea of how much longer the cord is I have lined up all the other headphones I could quickly find around my desk which includes the Apple headphones, HTC Innovation headphones, Sony headphones (very cheap ones) and of course the ZAGGsmartbuds.
Now I know there is an angle to the picture, the cord was too long for the lens to even have it all in the picture! To give you guys a little help in the different between the HTC and the ZAGG ones which are the two longest, the different between the ZAGG and HTC headphones in this picture is nearly 6 inches! As you can tell the cheap Sony's are quite short, almost too short especially if you have deep pockets. The Apple headphones are actually one of the best lengths in my opinion. Now there is a reason behind the madness of the cord length for ZAGG and it is found in their cord management system.
The extra length they give you is meant to allow a bit more wrapping of the headphones. Basically you can slide these adjustable round beads up and down the cord that pinches the cord at the back of your neck, securing it. So now if for some reason you have to take the headphones out of your ear, you don't have to worry about them falling down and ending up in a puddle, or tripping over them between your legs. Instead they just simply hang there like the picture below. Now it did take me a bit to figure out how to actually set this up, but once you do it, it really does help out. I can see this being a big thing especially if you are an active person, so you do not need to worry if for some reason they slip out.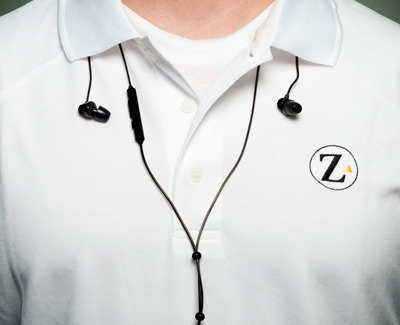 At the very end of the cord the headphone jack portion is at a right angle, which keeps the headphone end from bending or protruding out from the player. This is a tiny detail but it definitely helps in the long run. Now if only Apple could figure that out as well, as their headphones are notoriously bad for breaking near the headphone jack.
Another big feature of these headphones are the in-line controls and noise-cancelling mic which are located oddly at two different locations on the cord. The mic is a far distance away from your mouth only if you do not use ZAGG's cord management system. If you properly put the cable behind you the mic sits much closer to your mouth, still however I personally find it a bit too far. On the mic there is also a button which can be used to answer phone calls, pause and play your music. The volume controls are a different in-line control about 10 inches further down the cord. It has just a simple volume slider, nothing fancy.
And the last portion of the hardware coverage are those 5 different tips. The stock tips that are on the headphones are one of the two foam tips. Now personally I like these type of tips better than the plastic tips. I have been wearing these headphones for hours, and they are still very comfortable in my ear. If you have small for bigger ears they will have you covered in the plastic tips, the memory foams are a bit of a large or medium size I would say.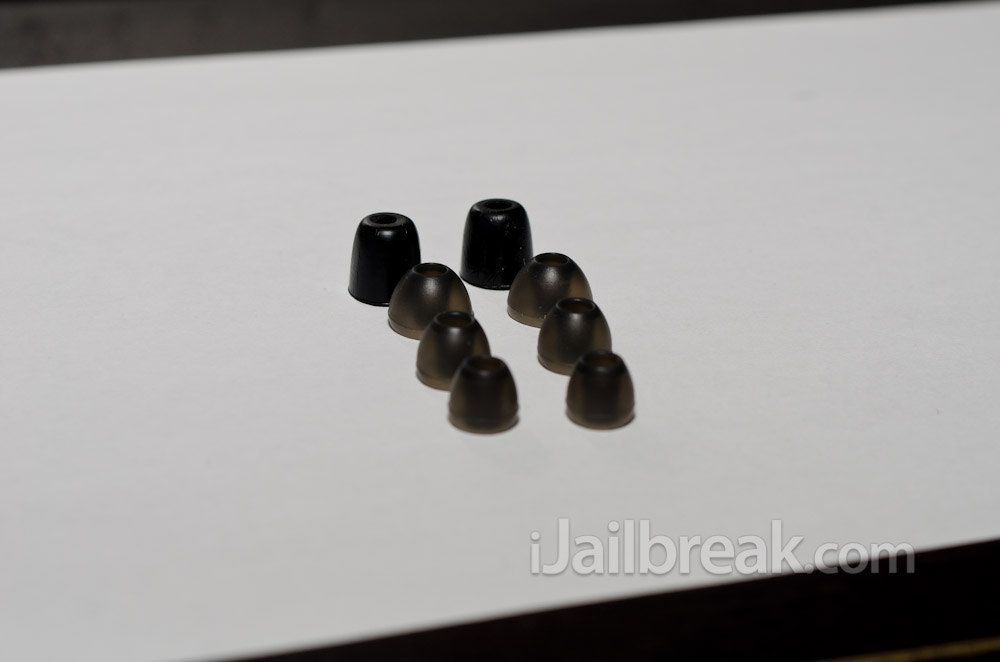 Sound Quality:
Now for the other important part of any headphones. Designed and performance are key to any piece of electronics or really anything at all. The overall design aspects of the ZAGG Smartbuds compliment different aspects of the sound performance. First and foremost overall sound quality. I would say it is "good." For a $50 pair of headphones, you shouldn't expect superior sound, but these are good. Now a little more explanation on where I figured that professional opinion from. I took 5 songs, each showcasing different aspects such as deep lows, tweeter crushing highs, fast melodies, and overall complexity. The speakers on here are 10mm in diameter which are a decent size, but packed a surprisingly punch when it came to the very lows, they handled them quite well.
Where these headphones didn't perform that well were in the highs. Any sort of symbol, high instrument, or higher notes, sounded like a washed out clapping sound. The overall sound of the music was pretty good. I compared them to both the HTC Innovation headphones and the Apple Headphones. The Apple were the worst in basically every category, being echoey, tinny, and couldn't handle lows or highs at all. The HTCs faired very close to the ZAGGsmartbuds, each fighting closely for quality.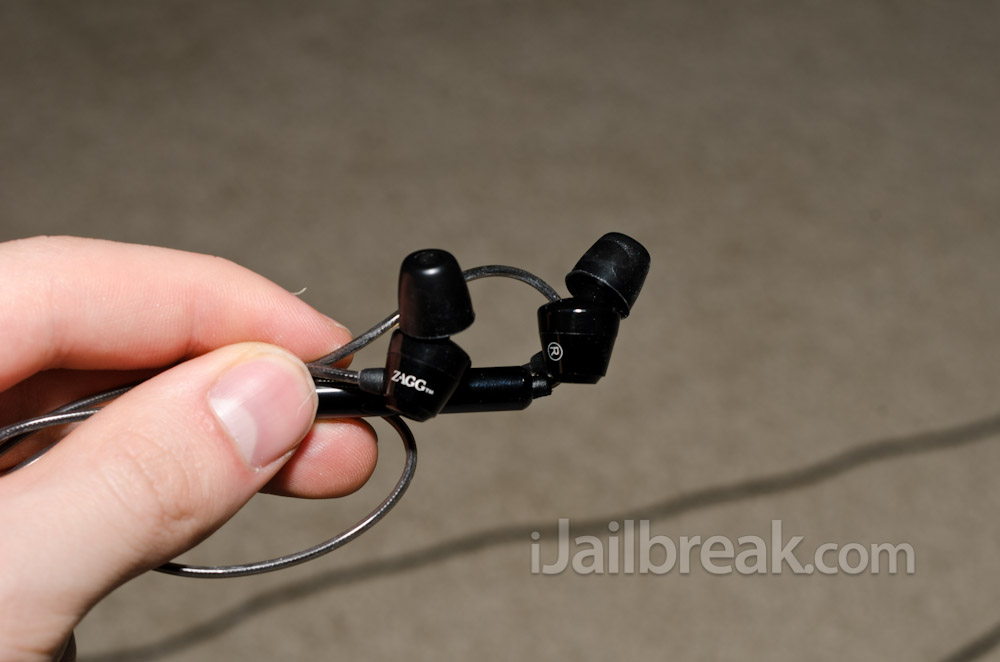 The volume slider which I mentioned just quickly in the hardware coverage did everything it is suppose to, nothing more, nothing less. The pair I had I did not experience any noise generated from sliding the control up or down, which is common in lower end in-line controls. The one downfall I noticed with the slider is that it is quite easy to slide, so be ready if somehow you accidentally push the slider all the up.
When walking around with headphones, it is common to hear noises from the cord being moved around, and these unfortunately have quite a loud noise to them. They handled wind well, but just moving the cable around gently I could hear an almost music dominating scuffling sound. Once again, if you use their cord management system this is minimized.
Phone call quality with the noise-cancelling mic was a little disappointing. I heard the other person very well, but they routinely were asking what I said. In comparing to the HTC and the Apple in-line mic, they are all close to the same. If you plan to use any headphones for a phone call you are going to notice this.
Overall:
If you are looking for a relatively inexpensive pair of comfortable headphones, especially if you are more active, these headphones will have the bases covered. Their unique cord management system may be difficult to first figure out, but once mastered minimizes the amount of movement of the headphones, and offers a good protection from tripping on them. They well built, practically tangle free cord may be a little long, but is quite durable. The sound quality from these headphones are better than what you would expect from a $50 pair, handling lows well and overall sound well without creating much "tinny" sound and minimal echoes.
Pros:
Basically tangle free cord
Unique cord management system
Good sound quality
Comfortable foam headphone tips
Don't handle high pitches well
Cord management system can be tricky to figure out
If you don't use their cord system, the cord is too long and creates lots of noise in the headphone
Storage pouch not the most durable
Overall I give these 8/10 for design and build, with a 7.5/10 for audio quality giving them an overall rating of 8/10
If you want to get your hands on these cost effective, good sounding, and very comfortable headphones then just click right here.