ZAGG without a doubt makes some great products for your iPhone, iPod Touch or iPad. Whether you are looking at the invisibleSHIELD, some of their iPad Bluetooth keyboards or their audio accessories. Speaking of audio accessories, ZAGG just announced their new earbuds called the ZRSIX.
Sure, it's a cool name, but is it really different from any other earbuds you can buy on the market today? Well, ZAGG is so confident that the ZRSIX is a game changing earbud that they are willing to offer you a money back guarantee — if the ZRSIX earbuds are not the best sounding earbuds you've ever experienced they will give your money back. That is a pretty big wager!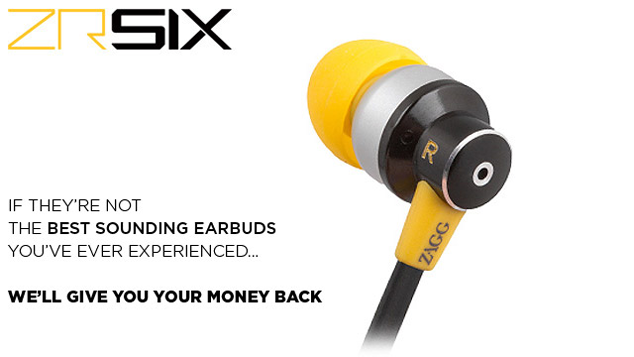 According to ZAGG, the "ZR-SIX earbuds are engineered with Reflective Acoustics, and advanced audio technology that formulates sound based on the fundamentals of human hearing. The high-quality driver reflects sound off a micro acoustic panel to magnify sound waves. Sound is then delivered to you with accurate tonal balance, even dispersion, natural clarity, and a rich, dynamic range."
Features:
Reflective acoustics
Tangle-resistant cord
In-line mic and remote
If you would like to learn more about ZAGG's ZRSIX earbuds then click here. With a money back guarantee what do you have to lose?