With Apple's iPhone 5 being the fastest selling iPhone in history I have no doubt that a lot of you reading iJailbreak posses one. As such, I am going to personally recommend an accessory to you that I have on nearly all of my Apple products (that includes my MacBook Air, iPad, iPod Touch and iPhone). What is this accessory that I am talking about?
Well, it is an invisibleSHIELD of course! I for one am not a case kind of guy, if I am going to take my iPhone into the outdoors or somewhere high risk then I don't mind popping a case on, but generally I like to enjoy the industrial look of the iPhone. The only problem is, we all know the iPhone isn't the most durable phone. Even sliding the iPhone in and out of your pocket can sometimes be enough to scratch it. That is why I have always turned to ZAGG to protect my Apple products.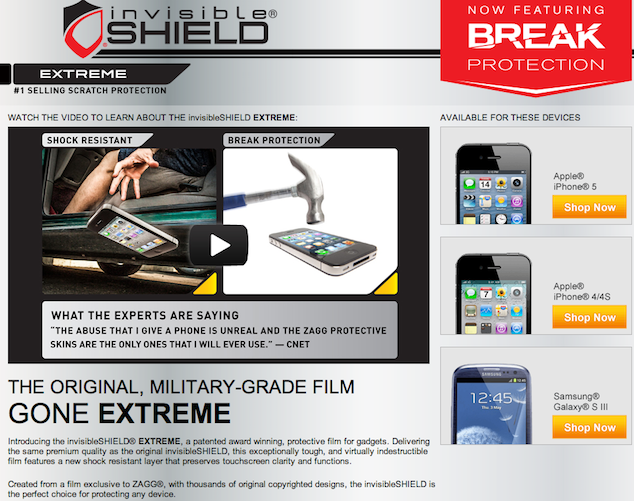 Their line of invisibleSHIELDs allows my iPhone to stay protected, while only adding 0.2 mm of thickness to the device. I am even excited to share with you guys that ZAGG has announced a new model of their invisibleSHIELD called EXTREME.
introducing the invisibleSHIELD® EXTREME, a patented award winning, protective film for gadgets. Delivering the same premium quality as the original invisibleSHIELD, this exceptionally tough, and virtually indestructible film features a new shock resistant layer that preserves touchscreen clarity and functions.
If you are interested in the EXTREME invisibleSHIELD or some of ZAGG's other invisibleSHIELD models then you should head on over to ZAGG.com today!