In what may be a testament to just how minor the iPhone 5's changes from the last generation are, an amusing Reddit user has created/discovered a sticker that will turn your iPhone 4 or 4S into an iPhone 5! What black magic is this, you ask? Well, we'll be honest: it really just makes it look like an iPhone 5.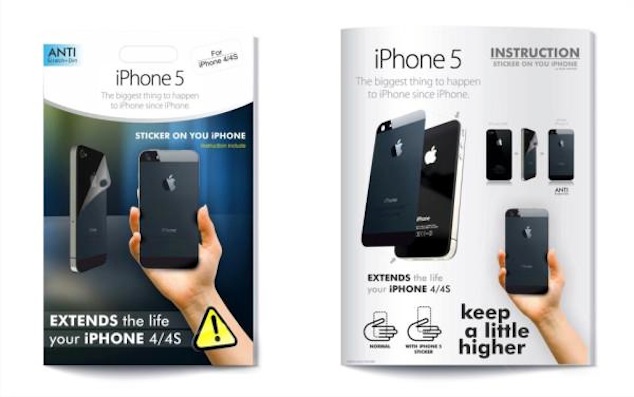 You see, the only major difference in the physical appearance of the iPhone 5 is that two-tone metal backing, which looks quite unlike the glass back of the iPhone 4 and 4S. Slap one of these handy stickers over that glass plate, and voila, you've got what looks a whole lot like an iPhone 5. Sure, your phone's still going to be too short to pass further scrutiny, but just hold it higher in your hand.
We're not entirely sure if this is a real product, or if this is just someone's funny mockup. The fantastic broken english – "STICKER ON YOU iPHONE" – leads us to believe it might be a parody product. Even if it is a mockup, we won't be surprised to see these on store shelves somewhere eventually.