You Won't Want To Miss Checking Out The Paper Thin Touchfire iPad Keyboard [VIDEO]
If you are looking for an external keyboard for your iPad then you will definitely want to consider the Touchfire keyboard. Although the Touchfire keyboard is not a bluetooth external keyboard, it really is a unique product. It has all the functionality of a standard keyboard, but in a paper thin, transparent rubber that fits directly on your screen.
What's neat about Touchfire is that you can still view the entire screen right through the keyboard with the ability to touch and swipe as if nothing was there! If Touchfire sounds familiar it might be because you saw it on KickStarter in 2011. The creators Steve Isaac and Brad Melmon had an original goal of $10,000, but they ended up blowing it out of the water with raising more than $200,000!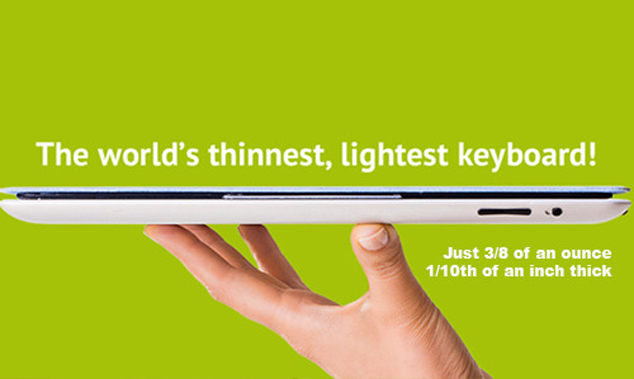 Since their campaign ended in 2011 they've been in full force delivering one of the most revolutionary iPad products to consumers around the globe. Check out a video of the Touchfire in action below and also some of its top features.
Works With All 9.7″ iPads: Attaches to the iPad 2/3/4 using the magnets built into those tablets. It's non-slip bottom keeps it in place on an iPad 1.
Type with out Looking: Textured keys allow you to type without looking so you can focus on your writing and not on the keys. Freely rest your fingers on the keys for a realistic typing experience with out accidentally entering characters.
What's In the Box?: Comes with a pair of cover magnets, which help secure it magnetically to your iPad's cover when you aren't using it. This makes it easy to keep it with you all the time. Stow the Touchfire keyboard away in an included storage case or simply roll it up in your case.
Rugged & Easy to Clean: The Touchfire keyboard is made of pure, high-performance silicone rubber. It handles the rigors of travel with ease. To clean it, simply run it under tap water and towel dry.
Click the button shown below for more information. Don't forget to check out the rest of the deals iJailbreak is currently offering as well.

Make sure you stay subscribed through our social media feeds, so that you never miss a beat, by liking us on Facebook, following us on Twitter and joining our circle on Google+.
Hey, you! Join the iJailbreak Insider for weekly newsletters, Jailbreak alerts, contests and more. (No spam, we promise)