The lack of an official first-party dock for the new iPhone 5, which is incompatible with the old docks due to the new Lightning connector, has made some iPhone 5 owners displeased. The convenience of placing your phone on a dock to charge/sync, instead of fishing around for a cable to plug it in, is something many iPhone users have grown accustomed to.
Here to save the day is a third-party manufacturer, with a handsome looking Lightning-compatible iPhone 5 dock. Their dock is called – simply enough – The Lightning Dock, and promises to offer all the same capabilities as the official Lightning cable. At only $25, it looks like a hell of a good deal, too, considering the plain old Lightning cable from Apple is $20, and the adapter that would let you use an old 30-pin dock with your iPhone 5 is $30.
We're a little bit skeptical of the functionality of a dock like this, though. With the whole thing costing just $5 more than the Lightning cable from Apple, it's highly unlikely they're using the guts of the first-party cable in their dock. Instead, they've hacked something together themselves, and there's no guarantees it will work as planned.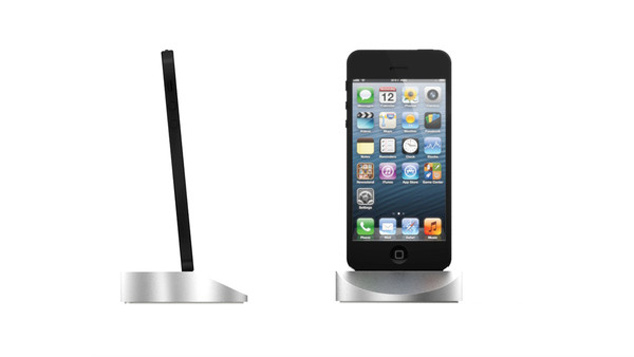 The Lightning connector is a bit different that a straightforward serial connector like a USB cord; there's an actual chip inside the cable that allows it to do digital-analog conversion, as well as a host of other as-yet-unknown tasks. Unless the makers of The Lightning Dock have thoroughly reverse engineered that cable, and built extremely closely copied hardware, it might run into issues with some of the Lightning connector's more advanced functions.
We're definitely curious to see if The Lightning Dock can pull it off, though. If anyone gets their hands on one of these, please let us know how it works for you!