If you're some one who's always on the go, you're probably always looking for a way to keep you mobile devices charged up, while you're away from home. Some people end up with multiple chargers in the home, in the car, at the office; everywhere. Even with the improved battery life of more recent devices, you still may need that extra boost, along the way.
ZAGG
has an awesome solution for this. The ZAGGSparq. Now at version 2.0, the ZAGGSparq is a portable charger that is also a back up battery that holds 4 complete iPhone charges, before needing recharging.
Portable power: More than a simple extended battery, ZAGGsparq 2.0 carries multiple charges for any personal electronic device with you – including four full recharges for a power-hungry Apple iPhone™
On-the-go convenience: ZAGGsparq 2.0 fits easily in a pocket or bag, the perfect size for travelers and business people
Very compatible: ZAGGsparq 2.0 works with most USB charged gadgets, including cell phones, handheld gaming systems, digital cameras, and the Apple iPad (adapters for mini-USB to USB not included)
Charge multiple devices: ZAGGsparq 2.0 provides two USB charging ports: Optimized and General
Optimized: The top USB charging port is optimized for smartphones and other devices that are capable of taking an optimized charge, including Apple's iPhone, iPad and iPod family of products.
General: The bottom port uses the standard USB specification and will charge devices that do not utilize the optimized USB charging specification.
Superior Engineering: ZAGGsparq 2.0 has been specifically engineered to charge Apple's iPad. It adds an additional 5 to 6 hours of video playback to the iPad.
I had version 1 of the ZAGGSparq, and I took it everywhere. Even just around the house, it was handy for charging, wherever you are. There was one fatal issue in version 1. After a while, for no reason at all, the ZAGGSparq stopped charging devices. When you pushed the button, it would show that it still had juice, but devices would not be recognized, when plugged in.
Well all that has been resolved in version 2.0, and the ZAGGSparq is better then ever. Now with an optimized port for the iPad, you can charger any portable device that charges via a USB. It also comes with an adaptor, so you can plug it in while in Europe.
Personally, I have used this in iPhone 3G, iPhone 3GS, iPhone 4, iPod Touch, iPad, and a Nintendo DS, and it has charged all of these, with no problem.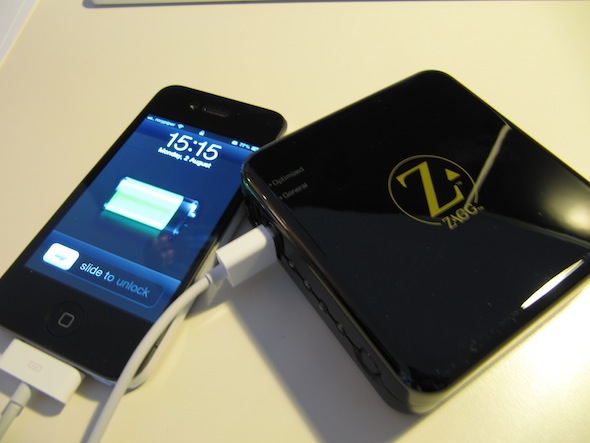 I highly recommend this charger. It is available now at www.ZAGG.com, for $99.99 USD. They are so popular, that they are rarely in stock. Go grab one now, while you can!
***Limited time offer! Purchase a ZAGGsparq and Receive Free ZAGGsmartbuds! (Valued At $49.99)***
Don't forget to use our exclusive 20% off coupon code "iJailbreak" during checkout.
Visit ZAGG.com now to purchase the ZAGGSparq 2.0!