ZAGG is the goto company for smartphone and tablet skins with their invisibleSHIELD lineup (currently 50% off, should I add) and OtterBox is what ZAGG is to cases. They are currently the #1 selling smartphone case manufacture and chances are if your friends or family have a high end smartphone, they have an OtterBox case.
OtterBox has many different case lines including the Defender series, Reflex series, Commuter series and Prefix series. Each line will cater to different scenarios and price ranges and you will have to decide for yourself which line will best suit your personal needs.
What better time than to look into investing into an OtterBox case than now! Cyber Monday is here and for a limited time you will receive a FREE waterproof Drybox 2000 with any purchase of $25 or more at OtterBox.com! Hurry, this event lasts today only so don't miss out on this great Cyber Monday sale! For a limited time only you can even build your own Defender Series case with various inner plastic and outer silicone color options.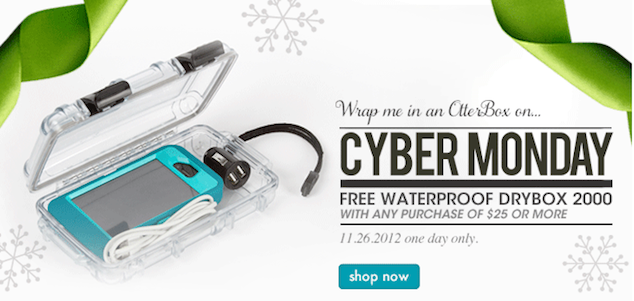 Don't forget that you can also save up to 15% by using the coupon code shown below:
Click here to visit OtterBox.com today. Don't forget to let us know if you take advantage of these great savings from OtterBox in the comments section below.