I love touring on my motorcycle, I also enjoy skateboarding and other action sports, but I don't really want to spend all my money on a GoPro to record my journeys, tricks etc. The iPhone is a great handy camera and I carry mine everywhere with me, but again, it can't be mounted on my helmet or used as an action sports camera… I'd probably end up breaking it. This is where the all new Mophie OUTRIDE iPhone case comes in.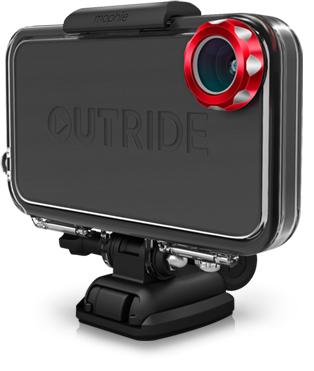 Mophie is super popular for its battery packs known as JuicePack, which provide exceptional battery backup power for iPhones and other smartphones. Now, they're bringing out a new type of case called the OUTRIDE and it isn't a battery pack. The case is waterproof, impact-resistant, has a built in wide-angle lens and turns your iPhone in to a sports action camera. It comes with a bunch of quick release mounts that can be used to attach your iPhone to your skateboard, surfboard, helmet etc. And it looks great! Ross Howe, vice president of marketing at Mophie said:
With the ever-growing action sports market, and our success in developing ruggedized products for those rough-and-tough tech users, we felt we were ready to design and develop a product that would take the iPhone and its camera capabilities to its limits. While the action sports community has a lot of camera and video options to choose from, they weren't able to share their moments with the community in real time. OUTRIDE gives the action sports community these capabilities in a durable, compact, quality and cost-efficient way.
Along with the case, you also get an app that lets you easily share your recorded videos. The Mophie OUTRIDE will be available mid-September starting anywhere from $129.95 to $149.95, which is pretty decent for a case that kinda makes your iPhone act like a GoPro! Anyone picking one? I sure am!