Just like that, JBL becomes the first company to launch audio docking stations that are compatible with Apple's new Lightning connector. Apple ditched the older 30-pin connector and replaced it with the new 8-pin Lightning connector seen in iPhone 5, iPad Mini, iPad 4th generation, iPod Touch 5th generation and the iPod nano 7th generation.  
JBL has released two new audio docks called OnBeat Venue LT and OnBeat Micro, which come with a Lightning connector. Companies like Belkin and Scosche have already released chargers and regular docks that support the Lightning connector, so it's only likely that other manufactures will follow suit. Sachin Lawande, executive vice president of HARMAN and co-president of HARMAN Lifestyle and Infotainment stated:
"JBL was among the very first audio companies to build a docking station for the Apple iPod, and we continue our leadership as we are first in the market with new Lightning connector docking products. These powered speaker systems match the flexibility users want while providing a high-quality performance. The JBL OnBeat Venue LT offers high-quality, proprietary driver technology and advanced digital audio software; it will deliver a truly robust listening experience to owners of the new iPad Mini and refreshed iPad. The JBL OnBeat Micro goes wherever you go, a feature increasingly important in our mobile society. With either model, music fans will hear the truth."
The JBL OnBeat Micro is only for the iPhone 5, iPod Touch and iPod Nano with a Lightning connector. It's light, portable and comes with dual 2 Watt speakers. It can playback audio for up to 5 hours on 4 AAA batteries, and it comes with a USB port and 3.5mm jack so it can be used with non-lightning devices.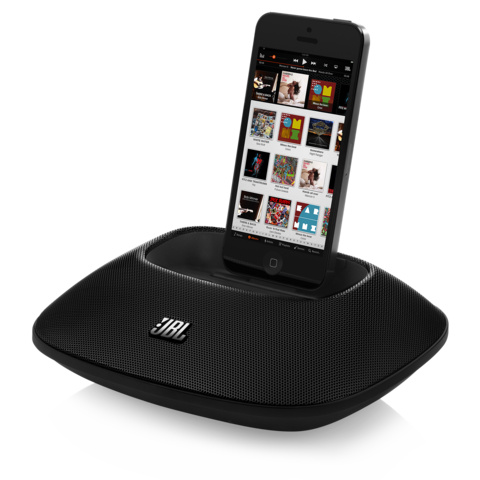 On the other hand, the JBL OnBeat Venue LT can be used with the iPad Mini and the full-sized iPad as well. This one isn't portable though, so you can't carry it around. However, you can connect up to 8 devices wirelessly, which is pretty cool.
The OnBeat Micro is priced at $99.95, whereas the bigger OnBeat Venue LT will cost you $199.95. You can purchased the OnBeat Micro and the OnBeat Venue LT from the JBL online store right away. If you've been waiting for an audio dock to accompany your iPhone 5 or iPad Mini, then this is what you need to get. Or you could pay $30, get a Lightning to 30-pin adapter and stick to the older audio docks.