Brand new iPhone 5S? Want to protect that beautiful piece of hardware but still want to show off its shiny gold or silver backing? Then hook yourself up with not one, but two protective, minimalist cases that won't hide your phone's backside. After you're covered, plug in a sexy new pair of earbuds, put on your favorite song, and rock out.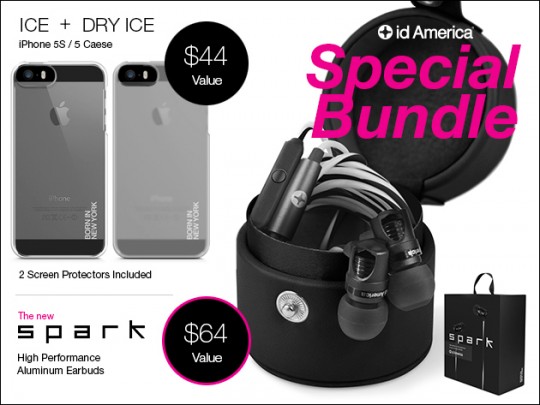 Coming at ya from one of the hottest names in smartphone accessories is the id America iPhone Bundle, including the Ice and Dry Ice iPhone 5/5S cases and the New Spark In-Ear Headphones.
ICE: A two-piece crystal clear polycarbonate case that gives you reliable protection while still preserving the look and feel of your iPhone.
DRY ICE: A two-piece soft-grip polycarbonate case that features a "frosted" glass finish and improved grip from the soft rubber coating.
New SPARK In-Ear Headphones: High-definition in-ear headphones that deliver full, resonating bass, intense mid-range, and clear, defined treble sure to bring a smile to any audiophile's face. With precision acoustics, unique, modern design, and precise ergonomic fit, these headphones come ready to play.
So why do we love it?
All three of these products look, feel, and perform like they should cost way more than they do. When we find companies that take pride in their offerings and stay competitive with pricing, it's difficult not to endorse them, and that's exactly what id America has done here.
Compare the new SPARK headphones with the higher priced Klipsch S4 earbuds or Bose ie2 earbuds (id America told us to) and we think you'll agree it's at or above the bar set by those two huge-name brands.
Similarly, we looked at the Incase Snap Case, priced higher than the Ice and Dry Ice cases, and if there was any apparent difference, we didn't see it.
To learn more about this iPhone 5/5s accessory bundle click the button below for more information. Right now iJailbreak is able to offer the bundle for only $57.99, which is 46% off its retail price.

Note: Only available to customers in the continental United States. The sale price includes shipping and all sales are final.