Griffin Technology has some accessories that are just plain awesome for your smartphone or tablet. The company offers a wide range of cases, chargers, adapters and in-car mounting solutions. That is why when Griffin Technology offers a site-wide discount code you want to make sure you take advantage of it!
Right now Griffin Technology is offering a 20% site-wide discount code for the month of November, in celebration of Thanksgiving. A 20% discount definitely can take a big chunk off more expensive items or larger orders, and as such if you have been eying something from Griffin, now is the time to purchase it.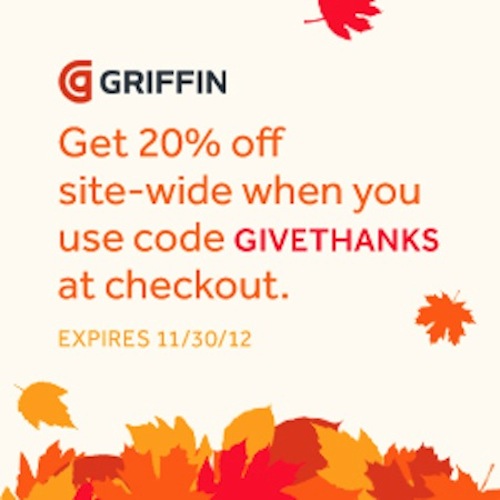 One product that I will bring your attention to right now is Griffin's new remote control monster truck that is controlled using your iOS or Android smartphone/tablet. It's called the MOTO TC Monster and you can wreak some serious havok with it.
The MOTO TC Monster puts you in the driver's seat of your very own monster truck. With MOTO TC Monster, your living room or bedroom becomes a multiplex arena where you can use your iPhone, iPod touch or iPad to drive, create routes, and wreak havoc.
What are you waiting for? Head on over to Griffin Technology now and use the coupon code shown below to take advantage of some serious savings.