If you have a 6th generation iPod Nano and have not converted it into a watch yet, then boy are you missing out!
There are several iPod watch converters on the market, but most are pretty mundane. Not Nanox from Emonster… this converter is unique. With it's foundation in Japanese design, this watch is simple, elegant, and minimalistic. It serves as an outstanding iPod case, but doesn't add any bulk to your wrist. Another great feature is the simple build: Nanox doesn't require any tools for assembly.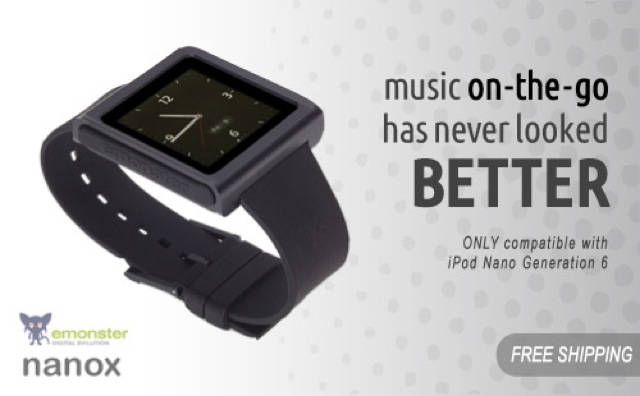 We love music on the go! Over time though, carrying your iPod everywhere becomes a hassle. With Nanox, iPod Generation 6 owners get a stylish, hands-free solution. Plus, not to forget…this sale price includes the cost of shipping anywhere in the continental USA.
If you have been considering purchasing a wrist conversion kit for your 6th generation iPod Nano then you will not want to miss this promotion! We are currently able to offer Nanox for only $34.99, which is 72% off its retail price of $126. Click the button below for more information.