'Breathometer' Is The First Breathalyzer For Smartphones [VIDEO]
Would you like to transform your iPhone/iPod or Android device into a breathalyzer? Who would like to know if your friends or yourself are capable of driving after cocktails or just a casual night out of dinner and bottle of wine with your date? According to indiegogo who's responsible for taking reservations, a "poll on sodahead.com, 64% of respondents indicated that either they have driven or have been in a car with a driver under the influence."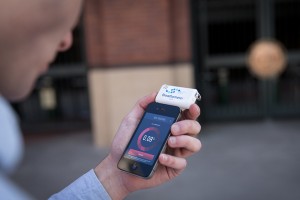 Breathometer has launched "The World's First Smartphone Breathalyzer." It looks like an old Griffin iTrip that attached to your iPod to transmit your music to the radio. You can carry the device in your pocket and when your ready to find out your blood alcohol content you can attach the Breathometer to your iPhone or Android audio jack and blow into it. Users will need to download the free app for iOS or Android to setup up the device. In addition to this feature the company will also be adding the function to call a cab from within the app in the future.
Heres an additional quote from the indiegogo website for tracking the projects progress; "Breathometer securely tracks your activity to make sure your Blood Alcohol Concentration (BAC) is heading in the right direction. It tracks your past results so you can be sure to allow for the proper amount of time to pass before you think about getting behind the wheel."
It's important to take note that Breathometer will only be available for the United States. "All international pledges will be refunded at the end of the campaign."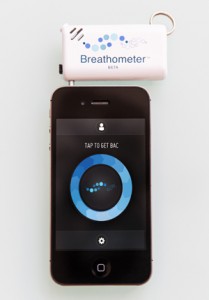 Early supporters who contribute $20 will receive their device by January 2014. Others who contribute anywhere from $50-$500 will see their devices anywhere from July 2013 to November 2013.
It looks like Breathometer will be compatible with:
iPhone, iPod running iOS 5 and higher
Android devices running OS 2.3 and above
This device provides functionality, but from the pictures above the device looks to over extend the body of the iPhone. In addition, the iPhone 5′s headphone jack is at the bottom which means users will have to flip the iPhone over to blow into the device. If a supporter contributes $75 or more they can choose from different colors like Black, White, Blue and Pink. Hopefully, with technology improving we will see a better fit, sleek looking Breathometer on our iDevices.
Here is a short video, enjoy!
Make sure you stay subscribed through our social media feeds, so that you never miss a beat, by liking us on Facebook, following us on Twitter and joining our circle on Google+.
Hey, you! Join the iJailbreak Insider for weekly newsletters, Jailbreak alerts, contests and more. (No spam, we promise)